We're Getting Mutants in the MCU - The Loop
Play Sound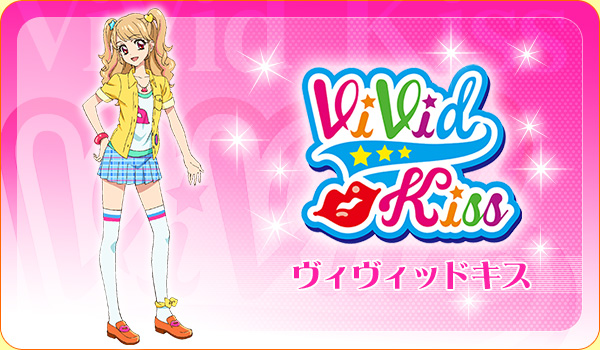 ViVid Kiss (ヴィヴィッドキス also stylized as ViVid Kiss, ViVid Kiss) is a Pop brand in the Data Carddass Aikatsu! series. The brand debuted in Aikatsu! Both of My Princess and Data Carddass Aikatsu! 2014 Series - 4th collection as Campaign Rare Cards. In the anime, Vivid Kiss debuted in Episode 78 where it was revealed to be a west coast-inspired brand from Los Angeles and is designed by KAYOKO. The brand's main users are Mikuru Natsuki and Hinaki Shinjō.

About
Brand Concept
Inspired by LA casual wear and west-coast designs, this brand gives the freedom of expression that brings out the pop in you.
Known Users
Top Designer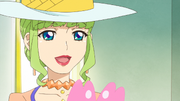 KAYOKO is one of the Top Designers who live outside of Japan. She is an acquaintance of both Mizuki and Hinaki and appears to be very easy-going. She has a tendency to speak reminiscent of a surfer or valley girl, and often hosts or partakes in parties. However, she has a serious sense when it comes to fashion and has no problem speaking her mind or revealing her standards. Anything that can surprise her or catch her attention is often praised.
Chronology
A New Miracle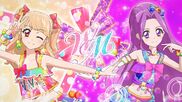 Vivid Kiss was first mentioned during a Television Program with Mizuki. She discussed the upcoming Surprise Live event, where she would be putting on her first performance with a girl named Mikuru, who is not an Idol as of yet. The only thing anyone knows about her is that she favors the Vivid Kiss brand - which is made and designed in L.A and is known to be an extremely popular Pop brand based on casual west-coast wear that can transcend genres.
When the performance day arrives, Mizuki and Mikuru both chose to wear Vivid Kiss coords: Summer Day Miracle Coord and Summer Day Moon Coord.
The same coords were worn for a performance that occurred not too long after.
Blooming Miracle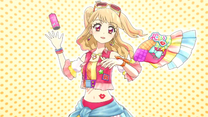 With her low popularity as an Idol, Mikuru starts to worry over whether or not she's really cut out for it. Mizuki is able to encourage her to keep pushing herself, promising to reveal exactly what her Idol Goal is if she is able to make it into the Top 10 ranking. Mikuru decides to hold a Solo Live in order to do this, and Mizuki shows support, only to inform her that she should ask KAYOKO for a Premium Dress for it. 
After finishing her work at the Flower Shop, Mikuru gets a call from a woman to ask about the Miracle Flower. Mikuru states that the shop is, in fact, the only one to do so, and the woman asks to have a bouquet of it in gold - causing Mikuru to hesitantly agree to the request.
During this time, Mikuru takes care of the flower while building up her Idol credit by participating in a bunch of various things. But in this time she incidentally arrives too late to water the flower at its scheduled time. Stressed out, she cries herself to sleep and awakens to see that the flower has bloomed in a rainbow of colors. She decides that while it wasn't what she requested, she will deliver it anyway. 
To her surprise, she sees Mizuki at the Party she was asked to deliver the bouquet to and meets the woman who put in the order: KAYOKO. She is very happy with the beautiful rainbow flowers and decides to give Mikuru the Resort Cancer Coord, which she would use to perform with later.
The Reborn Miracle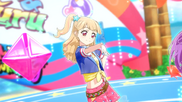 After witnessing the performance by Soleil, Mikuru begins to feel inadequate and worries that she may be holding Mizuki back. She is comforted and uses this time to learn that Mizuki chose to battle Soleil because they are memorable whether they win or lose. She also learns about Masquerade and what made them so wonderful, and why Mizuki admired them and wishes to surpass them. For their performance, she wore the Yacht Casual Coord.
A while later, at the start of their challenge for the Twinkle Star Cup, Mikuru wore the Ruby Cancer Coord.
Vivid Dash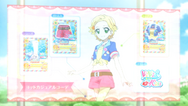 While going out for a jog, Akari happens to run into a girl she has yet to meet; but seems to know about her. They have a quick conversation before separating, and while trying to find out more about Hinaki, Akari learns that her favorite brand is Vivid Kiss.
While trying to determine which coord to wear from the brand, Hinaki explains that she usually decides by imagining herself ready to have fun while wearing one. Or if she feels down, wearing one usually perks her back up, but she also likes to mix them up for a fresh new coord too, and with how much fun she has, she ends up losing herself to the excitement. 
Effervescent Kiss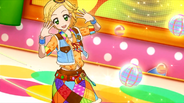 For the brand new Twin Lip announcement, Hinaki is set to perform. She observes her Vivid Kiss collection before deciding that she would like to use the Smile Dwarf Coord for it - but they have already made up their minds to pick a bolder look. She is unable to tell them and forces herself to believe that it isn't right for the Event, and slowly grows sullen over it.
She recalls how she first got into the fashion industry, but along the way, she lost her ability to effervescent. It happened during a gloomy day when they were recording outside. In her attempts to be her perky self and cheer up everyone, she slipped and was knocked unconscious. While it was nothing serious, she realized how overprotective everyone became when she behaved like her normal self. While appreciative, she hated knowing this and started to unconsciously ignore her true ideas or feelings.
Even now she is unable to resolve to go through with anything she wants to do. She hasn't been acting like her real self, but seeing Akari put her entirety into everything has inspired her. She tells them that she wishes to use the Smile Dwarf coord because she is sure it will match the lip gloss better. She also reveals the song she plans to sing and perform with, as there is a line in it that fits the lip gloss perfectly. However, to her surprise, everyone seems to adore her ideas and Hinaki thanks them before going to change.
Fairytale Kiss
A while later, Hinaki would go on to use the Vivid Kiss Premium Rare coords: Clara Carol Coord for the Christmas Performance, which took place on a stage slightly inspired by the Brand. As well as the Bubble Mermaid Coord for the Partner Tournament in another Vivid Kiss inspired stage, Neon Rothbart Coord, and Geppetto Innocent Coord.
Passionate Partners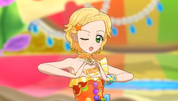 Eventually, Juri grew inspired after watching Sumire and Rin perform as a Unit and decided to set out and find her own partner. With the help of her old, close friend, Hinaki, she eventually realized that it was Hinaki she wanted to be partners with and chose her.
For their performances together, they wore a pair of unit coords, with Hinaki's made by Vivid Kiss, known as the Siesta Sunlight Coord.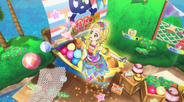 A while later, she met with KAYOKO to ask for a new Premium Rare coord for the Festival. KAYOKO revealed that she had actually just finished one and shows it to Hinaki, explaining that she gained inspiration from the tale of Peter Pan. Hinaki is impressed before going on to admit that KAYOKO should add a denim jacket to it, to give it a bit more. KAYOKO is pleased with this idea and quickly got to work, promising to deliver it to Hinaki later on.
A Vivid Muse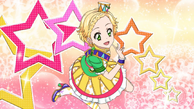 Many Vivid Kiss Coords make an appearance in this time when Hinaki went to do some model work. These include the Good Walking Coord, Bright Summer Coord, Powerful Checked Coord, and Tropical Denim Coord. A few other models were shown in a few other coords as well.
KAYOKO had been waiting for Hinaki to arrive for some model work. She is paid a visit by Orihime, who wished to speak to the sullen girl - who felt down after being left out of Aikatsu8. They discuss how much popularity Hinaki has gained, representing a magazine as its model but compare her to Ran, another idol heavily involved in Fashion. They are surprised when Hinaki shows up in high-spirits, but waste no time to get her ready and start.
As Hinaki is busy practicing and trying to think up a Unit name, she is informed that KAYOKO has called, asking her to come back for a few more pictures. Hinaki is a bit concerned, worried she did something bad, but her fears are quickly put to rest when she arrives and KAYOKO admits that Hinaki took the best photographs she had ever seen. She only called Hinaki back for a new coord she designed and wished to have her wear. She was so inspired by Hinaki's pictures and managed to gain so many ideas that she made the Fine Drum Coord. She later tells Hinaki that she is her Muse.
Hello! A Vivid Miracle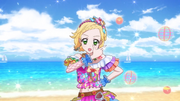 The Starlight Queen Cup is approaching. Hinaki has asked KAYOKO for a new premium dress so that she can use it for the cup. To find inspirations, KAYOKO and Hinaki decided to watch Mikuru's comeback concert after she won the Gardener's Cup. After that, Mikuru also joined them to take a walk around the town to find inspirations. After they got back, KAYOKO forgot that she was supposed to participate in a TV program interview, so she decided that instead of the interview, the program can be about shooting their dressmaking activities. That evening, Mikuru and Hinaki had a discussion about the upcoming cup, and they came up with an idea for KAYOKO's inspirations. When the morning came, Mikuru and Hinaki painted the Vivid Kiss office's outer walls, and KAYOKO got inspired to make a dress with a theme of graffiti. Later on, Hinaki performed with her new Premium Rare Coord, the Street Art Coord.
Cardlist
Data Carddass Aikatsu! Collection Cards
Promotional Cards
Coords
Gallery
Main article: Vivid Kiss/Image gallery
Trivia
This is the second known brand to be based outside of Japan.

This is also the second known brand to be based in America.