Virgo (おとめ座, Otome-za) is one of the 12 zodiac constellations. Its name is the Latin term for virgin, and its symbol is ♍. Lying between Leo and Libra, it is the second largest constellation in the sky. Virgo can easily be found through its brightest star, Spica.[1][2]
Known Idols of Virgo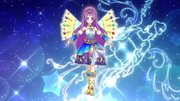 Coords of Virgo
Cards of Virgo
Gallery
Official Arts
Data Carddass Game
Anime Screenshots
Mysterious Virgo Coord
Sapphire Virgo Coord
Trivia
Virgo is the one of the only constellations with 3 rare constellation dresses, making it the one of the constellations with the most rare coords.
References