☆Yume Suzuki☆ ♪Questions?♪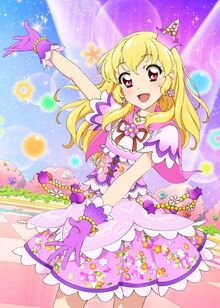 Yume Suzuki
Japanese Name
鈴木夢
Romanized Name
vis Suzuki
English Name
Yume Suzuki
Statistics
Age
13
Gender
Female
Affiliation
Aikatsu wikia, Aikatsu Star wikia
Occupation
Student, wikia editor
Birthday
Feb.14 (Aquarius)
Blood Type
Unknown
First Appearance
Anime
http://aikatsu.wikia.com/wiki/Episode_02_-_So_Many_Idols!
Voice Actress/Actor
Seiyū
Me
Singing Voice
Me
Hi everyone, my name is Suzuki Yume, you may call me Yume-chan or just Yume will be fine. My favourite anime are Aikatsu and Aikatsu Star. I just wish there are a real Starlight Academy or Four Star Academy from Aikatsu Star. One of my other dreams is I wish when I grow up I want to build an idol school just like the Starlight Academy. If I can't be an idol, I will train idols. I will help them shine like a star. It's my biggest Yume(dream). For right now I will just work hard.
My favourite pages
Ichigo
Mizuki
Angely Sugar
Aurora Fantasy
Userboxes
Basic info
Basic info
Idols
Units
Brands
Community content is available under
CC-BY-SA
unless otherwise noted.