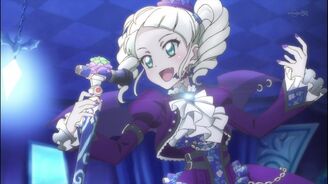 Hi, my name is Chris. Besides being an admin here (and the other Aikatsu wikia) I'm also the #1 Devotee of Yurika-sama and LoLi GoThiC!
Besides Aikatsu, I also love Video Games and Teto Kasane! I adore Idol series and other series featuring dress-up items and such, like Dream Festival, Pripara, Prichan, and Otocadoll.
Feel free to say hi!
Userboxes
Me
Brands
Characters
Various Others
Aikatsu Merchandise I Own
Cards
Coloring Book from season 1
Aikatsu 1st 3DS
Aikatsu Both my Princess 3DS
Aikatsu 365 Idol Days 3DS
Aikatsu Gummy Box Set 9
Various CDs
Aoi and Yurika button pin
Aikatsu Seal Party (it was a lot of fun to play with)
Aikatsu Gummy Box Debut Scene 2
Aikatsu Jewel Accessories 10 pack
Swing Rock Chopsticks
Swing Rock binder (came with some info sheets on the Swing Rock and Magical Toy brands)
Pink IC Card
IC Card from the 2nd 3ds game
IC Card from the 3rd 3DS game.
Gummy box set 4
Debut Scene Gummy Box set 5
Aikatsu 3 Set Nail Polish
My No 1. Stage 3DS
Ichigo figure with bonus card
Aoi figure with bonus card
Swing Rock 3DS Stylus-Pen
My Idol Rankings (1 and 2)
Yurika
Seira
Kaede
Mizuki
Ki
Hikari
Aoi
Maria
Shion
Ichigo
Sora
Sakura
Ran
Otome
Mikuru
Idol Opinions (1 and 2)
Ichigo: From the original trio she was who I liked first. But for a while I thought she was a Marysue and disliked her. Now, seeing Yume from Aistars, I regret that attitude.
Aoi: I was expecting her to be the typical shy and stoic blue girl so I was happy this didnt happen.
Ran: Ran is really plain, so while I enjoy her, there's nothing really special about her to me.
Otome:  Sometimes I like her, other times I find her annoying.
Yurika: My favorite of course! I love love love Yurika~
Mizuki: I really like Mizuki, she's so cool and pretty. I like her best with Kaede and Yurika!
Kaede: Kaede is so funny and charming x3 I support Kaede x Yurika!
Sakura: Sakura is cute.
Seira: I really like Seira x3 I love her brand and her pretty hair, we also share minor traits in common- such as our love of cats, we like the same music and guitar.
Ki: Although she isn't a cute idol, Ki is definitely one of the cutest in my opinion. I was so sad knowing she wasn't that popular.
Sora: I think Sora is very pretty, and watching her always makes me feel at ease~
Maria: I love Maria, but I wish she had gotten a little more attention.
Mikuru: Before seeing Mikuru appear in the anime, I liked her. But she kind of angered me with some comments she made in the anime so I ended up despising her.
Hikari: I enjoy her singing a fair amount, so I feel like she got ripped off a little by barely getting the chance to do anything in the anime.
Shion: Same as above. I'm glad she finally got to perform after so long. Was I the only one who thought her hair looked weird when it was long?
Official Idol Rankings (3 and 4)
Season 3 Ranking
Madoka
Nono
Juri
Akari
Yayoi
Tsubaki
Nina
Sumire
Rin
Hinaki
Minami
Kokone
Lisa
Miyabi
Idol Opinions (3 and 4)
Akari: Akari is precious to me, she is very admireable and I'm glad we got to see her grow so much.
Sumire: Originally I adored Sumire, although I hated that she replaced Yurika-sama. However, seeing how popular she was made me start disliking her; her fans made it difficult to me.
Hinaki: She reminds me of a hybrid between Kaede and Aoi. I liked her way more than I thought I would.
Juri: She was what we all expected but I love her.
Miyabi: She felt like a wasted and plain character, sort of like Maria and Ran.
Madoka: I love Madoka! In the whole cast I'd consider her my 2nd favorite now, tying with Seira.
Rin: I was surprised by how energetic Rin is, it's fun to watch her!
Kokone: I was expecting someone cute and perky, so at first she annoyed me. But I grew to enjoy her spoiled, unique personality.
Nono: Nono is so lively and cute to me x3 I really like her.
Lisa: She is so cute and shy, as a sexy-type I liked that it made her more unique.
Minami: I don't have much to think about her, but she was funny.
Nina: I love her "ears" and cotton candy hair, although Kirara in AiStars pulls it off better.
Tsubaki: I really liked her and her personality, so I'm kind of sad she never got much of a role outside of one or two episode. She could have become a great main character.
Favorite Coords
Favorite Pictures
Community content is available under
CC-BY-SA
unless otherwise noted.