Tristar

Logo

|

Season 1

|

Season 3

トライスター
Toraisutā
Statistics
Leader
Mizuki Kanzaki
Type
Sexy
Status
Active
Tristar
(

トライスター

Toraisutā

)
is an idol unit which started off with
Mizuki Kanzaki
,
Kaede Ichinose
, and
Ran Shibuki
from
Starlight School
. In the anime series, Ran left Tristar in
Episode 37
to join
Soleil
and
Yurika Tōdō
 was chosen as the final member in 
Episode 38
to take Ran's place. With Mizuki leaving Starlight at the end of Season 1, Tristar is disbanded; however, they reform in
Episode 150
.
A  tournament between Tristar and Soleil was held by Data Carddass Aikatsu! from June 28th to July 21st, 2013, and was won by Tristar.
History
Tristar Auditions
In Episode 33, Mizuki announced to the Starlight School community about an audition to form a unit with her, named Tristar. To join this unit, the students were given a week to train themselves for the audition, which Hikari Minowa ignored for her title of "The Underground Sun". The challenges for the audition were divided into many intense obstacle courses, including:
The Wall to Being a Top Idol
The Balance Beam and Volleyball Attacks
Rodeo Live
Battle Against the Giant Fan
Live Audition
From the Live Audition, Mizuki decided to hold a Final Audition, with the remaining participants which included:
Right after the Final Audition audition was announced, Kaede Ichinose, an American "Super Idol", skydives to meet Mizuki and entered the Final Audition via Mizuki's approval.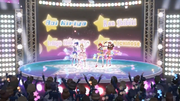 The Final Audition was held on the next day after the Elimination Audition, with Kaede entering as another one of Starlight School's official students. In this audition, Kaede was chosen to be the second member, leaving Ichigo, Aoi, and Ran to proceed towards the Real Final Audition. The remaining contestants (Ichika, Sango, and Nino) were eliminated from the contest.
The last audition was set for Ichigo, Aoi, and Ran (who were sent to a secret mansion inside Starlight School's area). During a day camp there, their Aikatsu phones were held by Johnny Bepp and they stayed in different rooms. Orihime Mitsuishi also gives them the 2013 Summer Collection cards for the auditions. The next day, they were interviewed by Mizuki for a live broadcast. During the interview, Ran was hinted to be the last member and there was one final Live Performance. After everything was said and done, Mizuki formally chooses Ran as the last member for Tristar.
Rivalry with Soleil
As some days past, Ran starts to leave her dorm for Tristar's business; however, slowly, she started to miss Ichigo and Aoi, and the growing depression had caused her to begin to mess up during training and rehearsals. Having realized this, Mizuki allowed Ran to leave Tristar, right on the night before Tristar's live in Ōsaka, and at the same time realising that though following dreams and challenges are important, there is something that is more important, and that is Friendship. On the day Tristar had their live in Ōsaka, Ran arrived moments after Ichigo and Aoi announced the name of their unit, Soleil, confirming that she left Tristar. Mizuki announced the same thing at Tristar's event.
After some days had passed after Ran had left Tristar to join Soleil, Mizuki happened to come across Yurika at a building nearby taking a break, witnessing how she kept character despite nobody else was around. It was this that made her decide to have Yurika join Tristar and when Yurika was announced to be Ran's replacement, Mizuki also announces a special live of Tristar and Soleil.
STAR☆ANIS
Orihime announced that Tristar, Soleil, and later Powapowa-Puririn that they will merge into STAR☆ANIS for a summer tour. Tristar returned to doing their own activities after the tour, but disbanded after Mizuki left Starlight School. Kaede and Yurika vowed not to perform together again, but later became unit partners once more after the announcement of the Partners Cup.
Unit Information
Unit Dresses
Members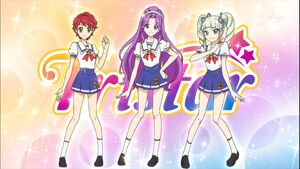 Songs
Stages
Trivia
This is the first unit to have multi-typed members but remain one unit type.
This is the first unit to reform with a unit aura.
Gallery
Main article: Tristar/Image gallery
Community content is available under
CC-BY-SA
unless otherwise noted.