The Tale of the Bamboo Cutter, also known as Princess Kaguya, is a 10th century Japanese folktale and the oldest extant of Japanese narrative. The story follows a mysterious girl known as Kaguya-hime, who was discovered by the titular bamboo cutter in a stalk of glowing bamboo. Its main brand is Sakurairo Kaden.
Coords of Kaguya-hime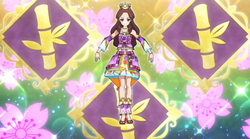 Cards of Kaguya-hime
Trivia
This is the second Romance Story to appear in Campaign Rare.
This is the first Romance Story to have coords from only one brand.

This also makes the first Romance Story to have only one type: sexy, followed by Hansel and Gretel.
Gallery
Official Artwork
Data Carddass Aikatsu
Anime Screenshots
Hagoromo Princess Coord
Peony Pattern Heavenly Coord