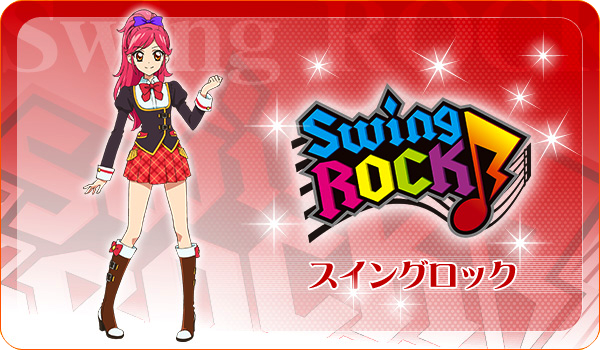 Swing Rock (スイングロック, Suingu Roku) (or stylized as Swing ROCK) is a cool type brand that was the first to be featured in the Constellation System. Swing Rock made its debut in Episode 51 and is Seira Otoshiro's favorite brand. The top designer is Makina.
About
Concept
From the live venues of the popular rock band "swings" comes a popular rock brand issuing dresses with a live all their own♪
Known Users
Top Designer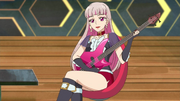 Makina is a touring-bassist and the first female top designer of a cool brand who met Ki and Seira prior Seira's first performance. She is informal when speaking, but calm and knows when to be serious. She has a "rock" vibe to her. She appreciates an idol with a backbone and took quickly to Seira and Ichigo after meeting them both. She is revealed to admire Asuka Amahane and was one of the first Top Designers to work with another in a collab project.
Chronology
Rocking Dream☆Girl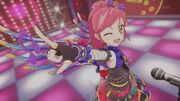 With the recent news of a brand new Idol Academy opening in town, the girls were approached by a mysterious girl who comments something to them before taking off. They soon then learn about a brand new coord theme, known as "Constellations", as well as the Headmistress' plan to hold a battle performance between Starlight School and Dream Academy. Aoi is chosen to represent Starlight Academy and stresses out as she learns of the major risk involved.
Eventually when the day arrives, the strange girl appears again and introduces herself to them as Seira Otoshiro, along with another girl who introduces herself as Ki Saegusa, her Producer. Ki hands over the Musical Scorpio Coord and Seira goes out to perform. During her performance she would go on to use a Constellation Appeal and gain the Proof of Scorpio.
Welcome Home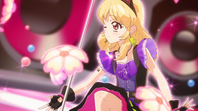 To everyone's surprise, Ichigo comes back to Japan. She is quick to embrace Seira and comments on the performance, only to receive a challange of going on to perform a Constellation Appeal. Seira has Ki hand over the Suite Devil Coord and Aoi asks Ichigo to perform instead of her, bringing up the importance of the battle between the two schools. Ichigo agrees, thinking that it looks like fun and they explain how one performs the Constellation Appeal.
After the duel ends in a draw, Ichigo is also rewarded the Proof of Scorpio.
A bit later, Seira and Ichigo use the same coords to perform against one-another in Swing Rock oriented performance. In this time, they learn about each other and deduce that they are rivals.
Python and Leopard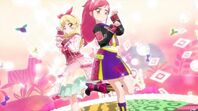 Both Starlight School and Dream Academy prepare to partake in the upcoming Idol Battles for the holiday. As Aoi and Ki bond over their interest in getting to see Idols, Seira and Ichigo promise not to lose to one-another and bond over their plans to have a great time. A bit later they were told that they would be putting on a performance together.
With the events beginning, Ki and Shora show up to hand Seira the coord she will be wearing for her performance, one reminiscent of the coord Ichigo was given - but by Swing Rock. Sora explains that right now, animal-patterns are trending and Makina, along with several other coord designers get together to discuss current trends.
Ichigo and Seira partner together to perform in the same trending coords for another performance.
Cool Angels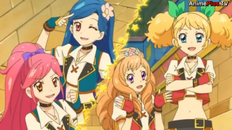 The four top idols of Dream Academy are asked to join the Auditions for a brand new Drama exclusive only to rookie idols. For two idols, they gain the red-themed Treasure Map Coord, and the other two gain the blue Adventure Map Coord, both coords by Swing Rock.
For it, they try to determine who gets what role: the reliable leader, the genius with an IQ of 500, the Gluttonous brawn, and the spacey mechanic. After failing to settle anything themselves, they rely on Compy for aid and go on to perform, winning the roles of the Drama.
Partner Cup
During the tournament of Duo units, Sakura teamed up with her roommate, Miwa Satsuki, who uses Swing Rock and performed with the Madras Check Coord.
Seira teamed up with Ichigo and used the Musical Scorpion Coord.
Sychronized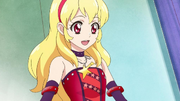 Orihime and Tiara ask Aoi and Ki to pick out two idols of the school to combine them into a unit to perform against WM. Quickly they determine the perfect combination to be Seira and Ichigo - but they are unsure of how to go about it until they get inspired after a waitress accidentally spills some of the dessert she had been bringing to them.
With this, the girls decide to try to test things out by meeting up with Ichigo and Seira, then bringing them to see Makina, who Aoi contacted earlier on. While Seira is revealed to already know her, Ichigo gets to meet her for the first time and voices surprise to know that someone rock-oriented like her would be a Top Designer. Aoi and Ki reveal their plans of having the girls try to synch up better by having them try on a coord from the others prefered coord.
Twin Dress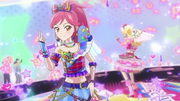 2wings decide to aim for a unit dress as the Twinkle Star Cup approaches. As they try to determine what to do, they look through coords belonging to their specific prefered brands, even using the program to see how the dresses look on one-another.
After finding an old concept belonging to a prior Idol Unit, they turn to the top designers of Swing Rock and Angely Sugar in hopes of achieving this goal. Eventually the Swing Gemini Coord was born after days of sleepless work between the two top designers.
Cardlist
Data Carddass Aikatsu! Collection Cards
Promotional Cards
Coords
Gallery
Main article: Swing Rock/Image gallery