We're Getting Mutants in the MCU - The Loop
Play Sound
Spicy Ageha (スパイシーアゲハ, Spicy Ageha also stylized as SPICY AGEHA) is Ran Shibuki's favorite brand. The top designer is Anna Tachibana. It was introduced in the first collection and made its anime debut in Episode 08 - The Underground Sun.
About
Spicy Ageha is a sexy-type brand which gives the wearer a graceful, elegantly mature feel. As of season 2, Ran is the brand's representative.
Concept
Girls are always the swallowtail butterfly fluttering in the sky, dance glittering and grab the audience... Spicy Ageha, featuring bold-revealing, sexy and gorgeous, is the brand for girls to fly higher. For a special day, for a day to appeal yourself, enjoy the dresses that makes yourself shine like a swallowtail butterfly fluttering high up in the sky.

Top Designer
Main page: Anna Tachibana.
The top designer is Anna Tachibana, who is Orihime Mitsuishi's friend. She also knows Ran, who approached her when she visited Starlight Academy. In Episode 23, she advised Ran and tells her about the true meaning of a "Muse" via Orihime.
Known Users
Chronology
Ran's Favorite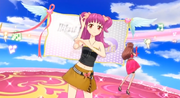 Worried over Ran's anxiety in an upcoming performance against Hikari, Ichigo and Aoi pay her a visit with some juice they made earlier. They take advantage of the moment to observe Ran's dorm room after she invites them in to have some and Ichigo happens to spot two Spicy Ageha cards. Ran explains that it is her favorite brand and she will save these cards for bigger performances. She obtained them from a model who runs Spicy Ageha a year ago when she came by to visit the Academy. Ran gathered up her courage to speak to the woman and she took a liking to her and had Ran put on a performance with clothing from the brand. A while later she sent Ran a letter with these cards in it.
When the performance approaches, Ran uses the Ageha Red coord, while Hikari, also a fan of the brand chooses to use the Sexy Leather coord.
First Premium
Deciding that the trio are ready, Orihime tasks Ichigo, Ran, and Aoi with performing in their first Special Audition. Premium cards are explained to Aoi and Ichigo by Ran and Johnny-sensei; who decides to lend the girls a hand by contacting their favored brand's top designer to set them up with an interview. For Ran he calls Anna and is able to get her something settled, so Ran and Aoi leave a bit later for their interviews.
When they return, Ran reveals that she has obtained the Rose Bon Bon coord, which she would continue to use along with the Glitter Violet coord for a while.
Everyone's Ageha
Ran works hard for a chance to become the Spicy Ageha Representative in an upcoming Audition. While this is going on she also tries to focus on a special fashion show that Ichigo entered her into - since she assumed she would have enjoyed it. At first Ran is angry but she plans on handling it with dignity and just training for both events. She then goes on to explain how she first came across Spicy Ageha.
Back during third grade, she looked very boyish and modeled young boy clothing. After she got a chance to wear Spicy Ageha clothing she fell in love with them and felt like an entirely new person. She wished from that moment on to change into the person needed to fit the brand. She loves Spicy Ageha more than anything and refuses to lose. But sadly, she does. She put on a flawless performance but she just wasn't a muse. Ran takes this as a sign that she isn't good enough and spends the next few days overworking herself, trying to improve as quickly as she can.
While the girls are finishing their preparations for the Graduation Ceremony they worry over Ran - who has not appeared yet. She is confronted by Orihime, who has noticed that Ran hasn't been enjoying herself lately and she discusses Ema for a bit, trying to help ease Ran's stress. She reminds Ran of what a muse is and soon she is able to realize where she had messed up. She thinks things over before leaving once Orihime gives her a few new sets of Spicy Ageha cards. She returns to the others and explains that they have to perform with her - which confuses them until she hands them each a set of cards.
For their performance, Ran used the Multicolor coord, while Yurika and Otome use Ageha Purple and Ageha Red, and Ichigo and Aoi use the Glitter Rose and Glitter Violet.
A few other Spicy Ageha coords that show up in this episode are the Gold Magic, Bijoux, and Romantic Fur.
A while later, she would receive a Spring-time coord known as Romantic Purple that she would alternate with her Premium coord.
Deciding the Third Member
While the girls wait for the final round of the Tristar Tournament approaches, they decide to spend time in an isolated Mansion on the school grounds. They have their phones confiscated and aren't interact unless outside of their seperated rooms. They received a set of Summer coords from Orihime, with Ran's being the Nocturne.
She would later go on to perform in the last Tournament round in this coord and is chosen to be on Tristar.
Mother's Day Surprise
As more information involving Masquerade was getting to be known, everyone was preparing for their plans of a Retro Performance. After Mizuki was unable to perform however, Masquerade shows up to lend a hand and they went on stage to perform for everyone.
In this episode, Masquerade are revealed to be Orihime and Ringo, Ichigo's Mother. They both use Spicy Ageha and had a special unit set made for them, the Miya Military and Hime Military.
Becoming a Muse
After a discussion of mascot-characters, Ran receives a call from Anna one day. She wishes to have Ran come by to pick up the Constellation Premium Dress that she has just recently finished. As Ran arrives they discuss the currently trending theme of the year and Anna discusses her inspiration for the King Leo. The crown is to represent the lion, while the feathers represent the wild birds that come from the savanna. Ran was also part of her inspiration for it and she wishes to have her wear it during the next fashion show and perform a Constellation Appeal with it.
Ran thinks back to the day when she was given the acceptance of becoming the representative model for Spicy Ageha. She is pretty concerned on whether or not she can pull off the brand new Appeal, but she refuses to let Anna down and to her surprise she finds that the girls have set up a small party to congratulate Ran. She shows them the cards before going off to train, too excited to even think about anything else yet. However, this stress takes a toll on Ran has she has a bad dream where she was unable to perform the Appeal. 
With time limited, she tries to train as much as she can while the girls are trying to find out more regarding her love for Ebipon. A news reporter has come to speak to Ran and they take some pictures of her upon finding her. They start a little while later, discussing how powerful and sexy the image has become since she began work as it's representative model.
Come the day of the Audition, Ran changes into the King Leo coord and performs. She is able to pull off a Constellation Appeal and wows everyone in the audience.
Minor Appearances
For her and Sora's part in an event the two schools had been taking part in, Ran wore the Scarlet Rose coord while acting as a prisoner locked in a giant bird cage.
During a photoshoot around the time that Soleil was going to reform for a performance, Ran had been with Anna discussing her coord choices with many various Spicy Ageha cards on the table. A girl then approaches her for some advice and asks for an opinion regarding the Sexy-themed coord she put together.
Aikatsu Sensei
For everyone trying out the main role for a brand new Drama Series being filmed in the school, the girls are given the Lady Teacher coord to wear.
Cardlist
Data Carddass Aikatsu! Collection Cards
Promotional Cards
Coords
Gallery
Main article: Spicy Ageha/Image gallery
Trivia
Spicy Ageha is one of the most featured brands for merchandise releases.
Ageha is the Japanese word for swallowtail butterfly.

This is possibly the reason as to why the brand is known as "Spicy Butterfly" in South Korea.

If one does not count Love Queen as a proper brand, this brand is the only brand that was introduced prior to or during Season 3 to not produce any Story Coords.