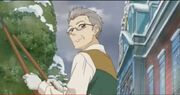 Shoichi Fujisaki (藤崎 正一, ふじさき しょういち) is the gardener who works on Angely Mountain with Asuka, the top designer of Angely Sugar .
Background
He is the gardener who lives with Asuka on Angely Mountain. He was doing his work in episode 9, when he notices Ichigo climbing the mountain and brings her to Asuka. He also appears in episode 12 to bring a truck for Ichigo so they could could carry the pine tree to Starlight Academy . 
Trivia
Ichigo calls him Gardener-san.
Gallery