Sangria Rosa (サングリアロッサ, Sangria Rosa) is a new sexy brand that debuted in the Data Carddass Aikatsu! 2015 Series - Part 2 and Episode 110 of the anime. The brand's top designer is Encierro Atsuji and its main user is Juri Kurebayashi.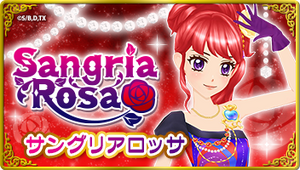 About
Brand Concept
A Spain-originated brand. This brand is inspired by the beautiful nature of the Andalusian earth and wind and characterized by free and passionate designs. With the use of red and orange, these clothes are overflowing with passion and are a popular choice to wear when it's time to perform!
Known Users
Top Designer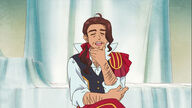 Atsuji Encierro is the first known male top designer of a sexy brand. He is hot-blooded and passionate and finds it fun to design clothing for those of a strong-will and the same overflowing passion. When the girls first met him he had been going through a slump at the time, and felt as though his passion was burnt out. But seeing Juri re-lit his flame and he quickly got back into his word. A bit later he began to mentor an aspiring designer, Muleta Atsurō.
Chronology
Burning Inspiration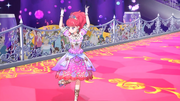 Juri's mother recalled one of her earlier roles when she was given a Sangria Rosa dress to wear. Hearing it, Juri revealed this was also part of the reason she grew to love the series as well, and decided that in order to lift her spirits, obtaining a Premium Dress was exactly what she needed. A few days later she set out to locate Encierro when they were unable to and found him to be in a depressed mood.
After being refused, Juri didn't plan on giving up. She returned to Encierro and tried to convince him to reconsider. The girls made some food for him and attempted to make him laugh or cheer him up but none of it worked until he witnessed her outside dancing and remained as passionate as ever. She reminded him of something precious and for her, he made the Rose Glass Princess Coord.
Passionate✮Jalapeño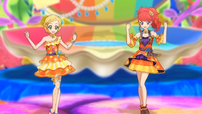 Inspired by the unit formed by Sumire and Rin, Juri decides to go on a search to find her perfect partner, which turns out to be Hinaki, the chocolate side of their chocolate potato chips, and it fits them wonderfully to create a unique, brand new flavor. The girls agree right away and decide that because of their long friendship, a fresh and new unit didn't actually seem all that possible.
When the unit's debut performance arrived, the two had had their unit dresses designed, with Hinaki's being Siesta Sunlight Coord by Vivid Kiss, and Juri's being Passion Sunlight Coord by Sangria Rosa.
The unit had also used this coord for their performance in Episode 137 for the Unit Cup.
The Queen's Passion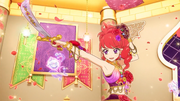 Juri has prepared her performance for the
Starlight Queen Cup
, and has obtained her second premium rare, the
Señorita Scheherazade Coord
.
Cards
Data Carddass Aikatsu! Collection Cards
Promotional Cards
Coords
Gallery
Main article: Sangria Rosa/Image gallery
Trivia
This is the first known Sexy brand to have a male top designer.
Community content is available under
CC-BY-SA
unless otherwise noted.