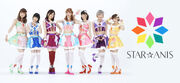 "STAR☆ANIS... start!"

– STAR☆ANIS's group catchphrase in the anime, first heard in Episode 41
STAR☆ANIS is a Japanese idol group who are the featured performers for songs in relation to the Data Carddass Aikatsu! game, as well as the anime adaption for it.
As of February 28, 2018, the group have graduated from the anime and Data Carddass series.
In the related Aikatsu! anime adaption itself (for season 1), the members consist of the eight main characters.
Members
Each member of STAR☆ANIS represents at least one of the Aikatsu! main characters, and therefore serve as their singing voice actor.
Official Members
Graduated Members
Sunao Yoshikawa (

吉河順央

) → Sunao (

すなお

) as Ran Shibuki, Sora Kazesawa
(graduated December 28, 2013)

Replaced by Yuna as Ran Shibuki as of April 3, 2014
Replaced by Eri as Sora Kazesawa as of July 17, 2014

Moe Yamazaki (

山崎もえ

) → Moe (

もえ

) as Yurika Tōdō (graduated December 28, 2013)

Replaced by Remi as Yurika Todo as of May 31, 2014

Mona Tomoyama (

巴山萌菜

) → Mona (

もな

) as Mikuru Natsuki (graduated February 27, 2016)

Replaced by Fūri as Mikuru Natsuki as of March 26, 2017
Unofficial Members
Listed
Unlisted
Data Carddass Aikatsu!
In the game, STAR☆ANIS is a part of the summer tournament cup. Ichigo's part is replaced with the player involved. In the 6th collection, STAR☆ANIS' dress cards are featured in the "STAR☆ANIS Dress Campaign" set.
Anime
In the Aikatsu! anime series itself, STAR☆ANIS is a temporary unit for Starlight School's summer tour, and had their performances and activities shown in Episode 41 and Episode 42. Their signature song is Hirari/Hitori/Kirari, which was featured during the anime's second ending credits. In one of the anime's second ending pictures (which also hinted about this unit's involvement in both the anime adaption and the game based off of it) and the stage performances for the respective episodes, members wear the STAR☆ANIS Coord. The stage that the group performs on is also based from the unit's name.
Team Outfit
Songs as an anime unit
Below are a list of songs of STAR☆ANIS as a unit in their anime counterparts, and not the real life singers.
Live Concerts Appearances
Animelo Summer Live 2014 -ONENESS- - August 29, 2014[1]
Lantis Festival 2014
Aikatsu! Music Festa
Gallery
Real Life
Anime
Other Materials
Videos
Trivia
Prior to the respective episodes airing for the Aikatsu! anime adaption's first season, it was hinted in one of the second ending pictures that the eight main Starlight School characters would be grouped under the name of STAR☆ANIS.

It was also briefly hinted during the second opening of the Aikatsu! anime adaption (Diamond Happy).
This was confirmed in Episode 39 and Episode 40 when the idol units Tristar, Soleil, and Powapowa-Puririn were merged together by Orihime to become a temporary unit called STAR☆ANIS (during a press conference to formally announce the summer tour featuring them).

The name and logo of the idol unit STAR☆ANIS is based on a shrub or a tree called Star anise. It is used to spice up certain Asian food.
Some of the members have multiple variations to their voices due to voicing more than one character. From lowest to highest pitch:

Fūri - Seira, Mikuru, Aoi 
Yuna - Shion, Kaede, Ran, Kī
Remi - Yurika, Miyabi, Otome
Eri - Sora, Sakura, Maria, Kokone

Sunao is the only member to perform a song in every CD prior to her graduation.
The outfits that STAR☆ANIS wore during the special show in Episode 41 and other normal events are cards all from DCD Aikatsu!, and all of them are loosely based on each card. The second time to have this kind of case is when Aikatsu8 happened at Episode 91.
This is the first unit to have units within the unit, with them being Soleil, Tristar and Powapowa-Puririn.
References
Community content is available under
CC-BY-SA
unless otherwise noted.