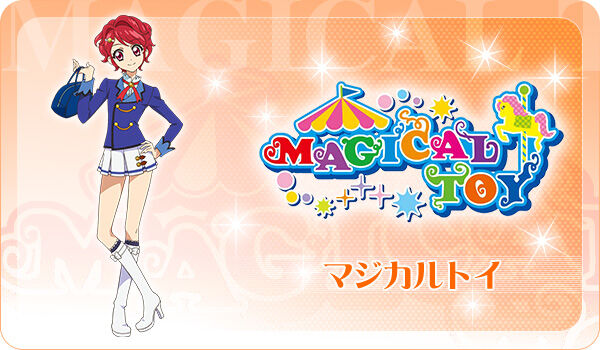 Magical Toy (マジカルトイ, Magical Toy) (also stylized as MAGICAL TOY) is a Pop type brand that is based in New York. The top designer is a clown called Marcel. This is Kaede Ichinose and Kī Saegusa's favorite brand. 
About
Concept
The fantastic brand "Magical Toy" is unique and pop, a reflection of amusement parks and carnivals, magic and an overall fun time for everyone.
Bright, neon and rainbow colors that everyone would like to wear, surely a dress of a new-look design.
Please enjoy the dress bubbled over with pleasure.
Known Users
Top Designer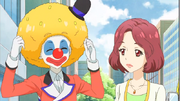 Marcel is a Top Designer located in New York. He is regarded as mysterious and does not speak a word - requiring the aid of a translator from time to time. He performs as a clown and knows many magical feats; which inspired Kaede to become a magician after watching him. His dream is to make everyone happy and joyful.
Chronology
A Magical Entrance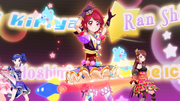 The mysterious American super-idol Kaede first appeared to compete in the Idol Unit Auditions. She is disappointed to find out that she is too late to enter, but they decide to accept her once they watch the video she made of herself performing many rigorous, extreme sports and training exercises. As everyone anticipates the next round in the event, they work twice as hard in hopes of keeping up with Kaede.
After being asked why she does magic, Kaede explains that she has always loved the Magical Toy brand. One day, she approached the Top Designer and explained to him just how much it meant to her, and she promised to become a top idol. With a wave of his hand, the premium rare coord was hers. She would go on to use this coord for the final round of the audition. Going on to win the second spot in Tristar. 
She would later use her Premium Rare for a few other performances. Such as when competing in the Starlight Queen Cup, and when performing as a substitute member of PowaPowa-Puririn.
The Okeoke Okay Pon-Pon Crepe Audition
When the announcement for the Pon-Pon Crepe is approaching, Seira tries to convince Ki to enter, knowing how much she loves Pon-Pon Crepes. Ki is less-than convinced she would be capable, as she is an Idol Producer. As the time passes, Seira tries to build up her confidence when one day, an accessory came for Ki in the mail. 
She quickly identified it as one her mother made and explains that this is a hobby of theirs. She expresses frustration over the fact that her mom took the time to make this when she has such a busy life style as it is and decides to send her mom an email to make sure she is taking care of her health. As the only doctor of the island they live on, she has more important things to focus on. However, she is appreciative while recalling how she and her mother started to make accessories. 
Back when she was little she was very lonely and didn't fit in with the other girls; who were cute and full of energy. Her mom made her feel better by tying her hair in pigtails held with cute accessories. She cheered up and was able to get along with the other girls, realizing that the real Ki was deep within herself and just needed encouragement to come out. Inspired by this story, Seira proved to Ki that she was right for the Audition and she finally agreed to enter, using the Variety Tile Coord to win and become the Pon-Pon Crepe image girl.
Aikatsu! Secret Story
This coord would go on to be used by a girl named Marie, an exclusive Manga Character. Ichigo began as her mentor after she came to America, but when Marie began her idol career she was put under Kaede to be mentored instead.
Mutual Love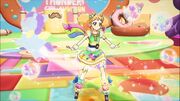 With the recent success of her producer skills, Ki is surprised when she is invited to join the auditions for the Brain Thunder Image Girl Campaign. Right away Ki is quick to consider that she cannot do it, as she has to focus more on her producer's work. Seira convinces Ki to reconsider when she reminds her that she is the one who loves the Brain Thunder drinks the most, and how everyone liked to see her as an idol, but she proves to be stubborn when she would rather focus on her Producers work for Seira's next commercial.
Eventually, a minor conflict occurs between the girls and Seira storms off after informing Ki that Marcel, the top designer for Magical Toy will be in town. Ki remains conflicted by everything until she speaks with Mizuki, where she explains that she works so hard because of her love for Seira. While this pleases Mizuki, she tells Ki that everyone wants her to do this audition because they would like to see her shine for herself.
She heads out to Old Japan the following day and sends out a KiraKiratter message for everyone in hopes of tracking the top designer down. She is aided by Ichigo, Aoi, Ran, and Seira, and soon they locate a vehicle with the Magical Toy logo on it. The girls chase it until Ki gets a cramp and is forced to quit. Seira refuses to quit and chases them down, apologizing for bothering them. She brings up how much Ki loves Magical Toy and Marcel steps out to thank her. Ki asks for the Magical Toy Constellation cards and he hands the cards over as she promises to work hard. Only to pass out from exhaustion soon after. Upon awakening, she is told by the others that Marcel was so happy to see how much of a dear friend Ki is, and he wishes for her to use the coord to spread happiness throughout the world.
When the Audition arrives, Ki goes to change into the Unicorn Sagittarius Coord and win the auditions.
Cardlist
Data Carddass Aikatsu! Collection Cards
Promotional Cards
Coords
Gallery
Main article: Magical Toy/Image gallery
Trivia
This is the first known brand to be based outside of Japan.

This is also the first known brand to be based in America.

Magical Toy is the first brand to be favored by more than one main idol.
This is one of the two brands with the highest number of known users.