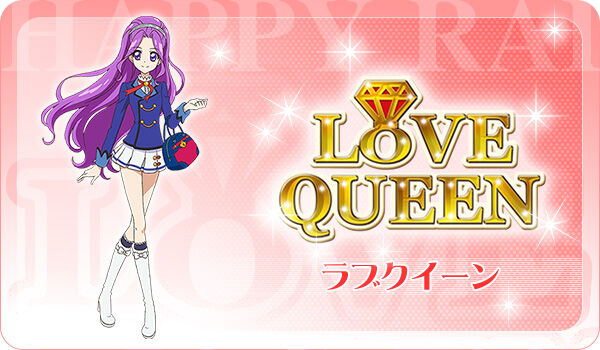 About

Love Queen (ラブクイーン, Love Queen) (also stylized as "LOVE QUEEN") is a brand created exclusively for Mizuki Kanzaki, in which she is also the designer and sole user of the brand.
Concept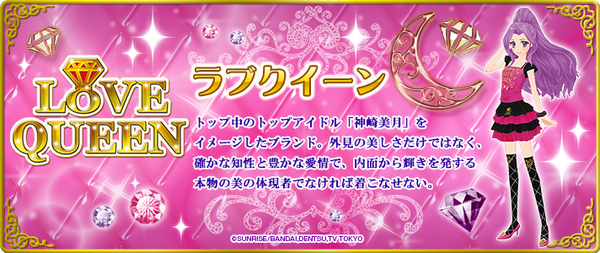 A brand made in the image of none other than the zenith of top idols, Mizuki Kanzaki. Not only does the brand incorporate the beauty on the outside, but it is also filled with abundant knowledge and love; the ones who experience our dresses will feel the real beauty dazzling from the inside.
Known Users
Chronology
Throughout the first season, Love Queen made few appearances.
A Brand of Luxury
To Prepare for the upcoming event to determine who would become Mizuki's unit mates, Ichigo, Ran, and Aoi did research on her. They learned of her creating the brand and how it was designed specifically for Top Idols.
When she went against Ichigo in the final round, she wore the Party Queen Coord.
Mascara Commercial
During the time of the approaching Starlight Queen Cup, the girls watched Mizuki's brand new Mascara Commercial, where she was shown wearing the Mermaid Jewel Coord. In this time, Mizuki dealt with the fatique draining her remaining energy and learned a lesson in knowing when to lighten up when it comes to ones physical needs.
A Queen's Future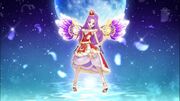 For the Starlight Queen Cup finals, Mizuki revealed to everyone the brand new Premium Rare coord belonging to the brand, Royal Moon Coord. She wins the tournament and makes the shocking reveal that she will be leaving Starlight Academy, just as Ichigo decides to take a trip to America.
Cardlist
Data Carddass Aikatsu! Collection Cards
Promotional Cards
Coords
Gallery
Main article: Love Queen/Image gallery
Trivia
As of season 2, Love Queen has evolved into Love Moonrise.

This makes Love Queen a season one exclusive brand, and is why it is the only brand without a constellation that isn't from the 2015 series.

In the Data Carddass Game, all Love Queen cards are now under the brand Love Moonrise, as can be seen from this picture. Despite that, all the cards are still have "Love Queen" listed on them.