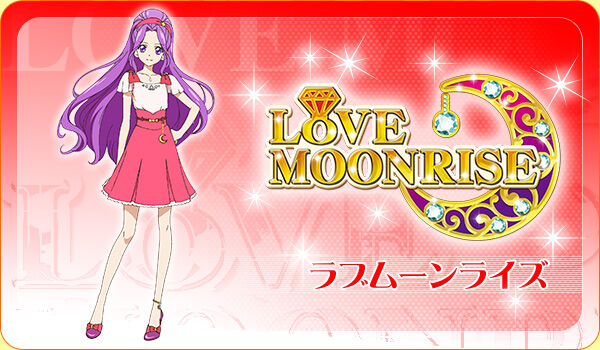 Love Moonrise (ラブムーンライズ , Love Moonrise) (also stylized as ''LOVE MOONRISE'') is a Sexy brand of the Data Carddass Aikatsu! series. The brand's main user is Mizuki Kanzaki[1] who also is the brand's designer (stated in Episode 75). This brand is the evolved version of Love Queen.

About
Brand Concept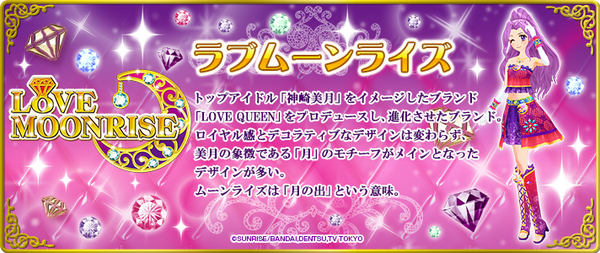 The brand produced using the image of Mizuki Kanzaki, Love Queen, has evolved into Love Moonrise. The royal feeling and decorative table design hasn't changed regardlessly, and Mizuki's symbol "Moon" is the motif and used a lot in designs.
Known Users
Top Designer
Mizuki Kanzaki was a Top Idol who originated from Starlight School. During her time away from there and effectively vanishing for a while - she used this time to grow as an Idol and learn new things. To show this, she evolved her original brand. She debuted this brand during her return to the public.
Chronology
Return of the Moon
As everyone was enjoying their off time from their Idol careers and schooling, word of "Secret M Live" began to spread. All that anyone was able to deduce was that the mysterious person is very famous, but just before the performance, many of them make the connection and quickly head to the stage. Backstage, Mizuki prepares while her manager and a girl she recently met watch. She uses the Mysterious Virgo Coord.
After she performs Precious, Mizuki formally reveals that she has returned; surprising everyone watching.
Eclipse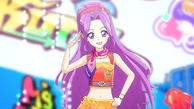 WM is set to perform the day after Soleil and chat about their performance the day before. While Mizuki is confident, she notices how anxious Mikuru has become. She also discusses how much she enjoys reading a Magazine, despite being able to remember everything in it. She explains that because of how intriguing and mysterious Masquerade was, she is inspired to keep doing her best too, and wants to keep pushing herself further.
With Mizuki recalling her past as a Starlight School idol, and Mikuru getting over her nerves regarding their performance, they change into their brand new, summer collection coords and appear on stage to perform a new song.
Many Stars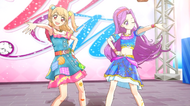 With their challenge issues to the two headmistresses of both Starlight School and Dream Academy, WM quickly got to work to set their future Aikatsu plans in motion. Mizuki is delightfully surprised when Ichigo and Seira were chosen for the event, and goes on to perform while wearing the Sapphire Virgo Coord.
Another Moon Phase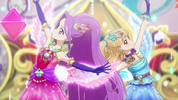 With the final round of the unit tournament approaching, WM reveals their plans of disbanding in order to follow their own goals. For their final performance together, they wore a pair of campaign rare Love Moonrise coords: Summer Night Miracle Coord and Summer Night Moon Coord.
Fairytale Performance
After an absence, Mizuki reappears with an offer to produce the Ichigo Hoshimiya Project, but she refuses and takes off. She sends Ichigo a letter and asks to meet up with her later on, where she reveals her plan to retire as an Idol - feeling that she has already accomplished her original goal.
As the performance day approaches, Akari searches for Mizuki and manages to locate her by the time she reaches the fourteenth location. As Akari gets her to join them, she informs her that Ichigo wanted her to perform on stage with her. But not before Mizuki tells Akari to join them and reveals a special coord set she designed, the Shine Witch Coord.
After the performance, they watch as Ichigo surpasses Mizuki. In this time, she decides not to quit being an Idol and plans to regain her once own crown from her. 
Cardlist
Data Carddass Aikatsu! Collection Cards
Promotional Cards
Coords
Gallery
Main article: Love Moonrise/Image gallery
Trivia
References
↑

Ciao, March 2014 issue. Shogakukan.