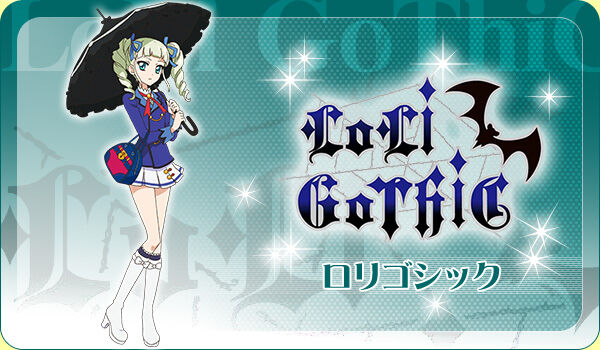 LoLi GoThiC (ロリゴシック, LoLi GoThiC) is a cool-type brand that makes the wearer look mysterious and gothic. It was introduced in the third collection and made its anime debut in Episode 19 - The Secret Scent of the Moonlit Girl. The brand's primary users are Yurika Tōdō and Sumire Hikami. 
Background
LoLi GoThiC is a card-dress company that makes gothic lolita outfits. They generally have a Victorian feel around them based on noble European-style clothing. Most of the outfits use eerie colors such as navy blue and black.
The headquarters has staff who tests their visitors' courage. The top designer is Maya Yumekoji, who pretends to have possessed the mansion for 300 years; however, he only wants his designs to be used by a strong person.
Concept
Goth and loli. The theme of the LoLi GoThiC. Mysterious and charming, this brand combines the style of traditional goth-loli styles with the styles of Medieval Europe and the Victorian era. Equipped with rose and cross motifs, dark colors, and frills and lace with bat wings, this brand is brimming with darkness that will bring out the mysterious charm in you.
Known Users
Top Designer
In hopes of obtaining a Premium Rare and fixing her tarnished reputation, Yurika enlists the aid of Ichigo, Aoi, Ran, and Otome to get to her appointment with Maya. While sinister in appearance, he is a humble and generally kind Top Designer who only wishes for those with a strong personality and determination to wear his coords. He tests idols wishing to show their strength by getting the help of his staff. After Yurika stood up to what was being said about her and seeing her determination, Maya granted her the right to wear his first Premium Rare. He would go on to become one of her good friends.
Chronology
Rock Concert
LoLi GoThiC was first mentioned by Johnny-sensei when describing an upcoming audition for a rock concert being sponsored by the brand. Everyone was excited for it until he revealed that Yurika was expected to win it. The girls decide to observe Yurika for some time after this and reveal to Ichigo that Yurika isn't really a vampire, but a character she portrays. They explain how valuable having a character can be for an idol and how Yurika is perfect for the brand, and this inspires Ichigo to try out her own character. But she decides to drop the act shortly after. 
When a fire breaks out in Yurika's dorm room, Ichigo runs into the room to save her parasol since she knows how much it means to her. As thanks, Yurika invites Ichigo and the others into her room after it's safe to return and she explains where she gained her passion for Vampires. She also made her character after finding the LoLi GoThiC coords.
When the audition day arrives, Yurika and Ichigo perform against each other. Yurika won in the end for how well she was able to portray the brand, and while Ichigo lost, the higher-ups of the brand were impressed by Ichigo's dedication to her favorite brand and decided to try opening their line a little more.
Vampire Scandal
The girls confront Yurika after finding a page that shows a peculiar picture of her. Johnny and Orihime voice their own concern over it because while a scandal is actually a good challenge for an idol to overcome, they wonder how it will affect her upcoming performance.
The girls are able to determine where the pictures came from while discussing how such a scandal could reflect on Yurika's idol ranking and they check on her. To change the subject they bring up what coord she wants to use and they ask to look through her LoLi GoThiC coord book that they spot nearby. They begin to make suggestions, including the use of a PR. They are sure this is what could snap Yurika out of her depression, and they offer to come with her to get a coord from the intimidating Top Designer of the brand. However, Yurika is too down to even consider it but determined to help her, Ichigo speaks to Johnny-sensei; only to find out how terrified of Maya he actually is.
On the way back to see Yurika, Ichigo happens to find a bunch of girls hiding out in the bushes outside of the Dormitory. Understanding why they are there, she tries to force Yurika outside to see her fans. Yurika is sure that this isn't a good idea since they only love her character and not her true self. But to her shock, the girls reveal themselves to her after Ichigo is able to yank her outside. They explain how they came to see Yurika, since she usually only comes out during the evening for a new victim, and even though she may be hiding now, they know that one day she would return. Yurika is touched by such words and decides that giving up isn't the way to handle her crisis.  
After the girls get the confirmation from Orihime, they head over to a big, scary mansion. Yurika rushes inside to locate the top designer and manages to overcome the many trials waiting inside until she reaches the final room - effectively making her the first idol to defeat the test. She remains unphased and stands her ground to Maya, despite his mentioning to her that his coords are only for strong girls as he reveals the Premium Rare coord, as well as the fact that she is involved in a scandal, and is unfit for the brand. Yurika responds by taking the article about her and throwing it into the nearby fireplace.
She tells Maya that she needs the PR and she will get her courage back soon enough. She may not be entirely worthy of the coord right now but she loves the brand, and one day she will be ready for it, and she will see to it that she stays as LoLi GoThiC's top idol. Such words surprise Maya and he decides to reward Yurika with the PR.
Yurika goes on to use this coord in her performance, along with a few performances for a concert with the other girls and a solo, a concert to try to earn her Mastery of Communication, and the first round of the Starlight Queen Cup.
Eternity
Orihime reveals that Yurika was requested to take part in a commercial for a strawberry-oriented breakfast cereal that the LoLi GoThiC top designer is lending a hand with. Given that vampires are weak to light, it is pretty surprising but Yurika accepts the other anyway. The commercial goes on without a hitch and everyone loves it and start to discuss her upcoming convention appearance.
Yurika explains in full detail what went on at Maya's Manor during her time filming the commercial. She reminds the viewers about her upcoming event. 
During it, Yurika appears with Maya's pet bat and greets many of her fans. However, one little girl happens to catch her attention after she drops her "Transformation Calendar" storybook. Yurika is surprised, as it is one of her own favorites. However, the little girl is unable to say much and attempts to ask Yurika how she became a strong person - only to be forced to leave by the staff since each fan only gets a minute or two. 
Later on, a depressed Yurika pays Maya a visit. She reveals what occurred and feels bad that she was unable to answer the little girl. Maya claims that Yurika is seen by everyone as an invincible vampire, which is good enough, but he can also understand this and recalls how troubled she was the first time they met. He decides to tell Yurika about the brand new Constellation dress for LoLi GoThiC and how it will be finished soon, and he wishes for her to wear it. He also asks that she helps prepare the show also.
In this time Yurika thinks more about her fans and how she was able to become a stronger person. She really wants to tell Chimaki about her past self and attempts to locate her with the help of the other girls after receiving the brand new coord. They are able to find her, just before Yurika is set to go onto the stage and bring her to see the real Yurika. 
She reveals that when she isn't in character, her true personality and appearance is drastically different. What made her strong was her love for the brand and the desire to perform her Aikatsu wearing the coords from it. If Chimaki wishes to change herself, she should do it a little at a time and gives her some tips and examples while preparing her hair for the show. Seeing that Chimaki feels better, she changes and heads out to perform.
Good Fortune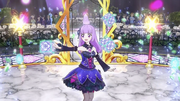 Akari gets to know her new roommate after an incident ruins the dorm room she originally owned. After Sumire wins the contest to determine who would play the role of Ichigo's manager for the day - an envious Akari follows the two girls so that she can see what goes on. As she learns more about Sumire, she and Ichigo arrive for a performance Sumire would be putting on and Ichigo gives her a new coord set belonging to the brand new dress theme, Romance Story.
Sumire would later use this coord for two other performances.
An Apple Premium
Sumire voices her desire to get her own Premium Rare dress after Akari obtains one. She decides that she needs to step up her game to keep up with Akari and they use some time to discuss the brand, along with Hinaki, who did some info digging. She reveals that LoLi GoThiC will be unveiling a brand new premium coord and Akari suggests that Sumire pays Maya a visit.
While Sumire initially believes the idea to be good, she is concerned that she may not want to be met by him because he sounds a bit scary and he can be hard to please, so they decide to pay Yurika a visit in hopes of finding out more. They get her a gift before paying her a visit, and Yurika calls Maya once she gets some free time to ask how the progress on the dress is going and she starts to wonder what she can bring as encouragement. Yurika compliments the Odile Swan coord that Sumire wore recently before revealing the brand new theme of the new dress: Snow White.
Sumire is even more excited at the idea of the darkness in it complimenting LoLi GoThiC's dark image. Before Yurika has to go, she gets a message from Maya, explaining that he has finished a new dress that he thinks would look wonderful on her. He asks her to come by and check it out when she has a chance, so Yurika tells Sumire that she has to go and see Maya the following day. If Sumire and they feel like it, they can come with her.
Sumire gets an idea and makes them baked apples for them to enjoy after they get to Maya since apples are very important to the story of Snow White. While the other two show concern, given that the poison is in an apple, but Sumire is sure that it is befitting of the image.
As it gets late, the girls head inside while Yurika recalls what happened a few years back when she first came. Sumire promises to do her best but the trio gets anxious when Yurika decides to take off to find Maya - as she feels she shouldn't help them. However, she gives them a few words of encouragement.
Eventually, Sumire finds a room full of idol paintings and portraits, all of them dressed in a variety of dresses and outfits that belong to the brand. Sumire can't help but admire them until someone asks her to identify the name of the dress she stands before. She recognizes it as Goth Magic, as the very first coord she saw and recalls how her mother made the same dress for her sister. She is able to name the rest of the dresses, these being the Stripe Trench and Holy Goat. She even finds the first dress she asked her mother to replicate for her, known as the British Coord.
Sumire continues down the path and comes to a dead end, where only a mirror sits. She hears a strange voice and is asked who loves the Loli Gothic brand the most. At first Sumire struggles, and makes an attempt to say Yurika, but instead, she claims that one day it will be she. The wall suddenly opens and grants Sumire permission into the room. Inside she finds Yurika and Maya waiting for her, and Sumire introduces herself before observing the dress. She notices the apples on the dress, which Maya admits to being initially hesitant - since apples add a dark touch to the dress and may have been in bad taste to use them. Sumire compliments the dress anyway and shows to them the apples she made as they are joined by Akari and Hinaki.
After a while, Yurika decides that she wants Sumire to wear it, earning Maya's own compliment for being a great senpai to a younger idol. Maya changes the dress and hands Sumire the cards, and with that, the girls take off so that she can get ready for her performance.
She would go on to use this coord a few more times, including the cover art of her CD.
Choosing an Idols Path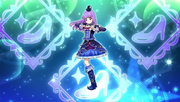 Sumire finds herself feeling troubled after realizing she doesn't have an idol specialty like Hinaki and Akari do. She tries to figure out what type of idol she wants to become while struggling to practice, only to get a call from Orihime to detail the recent offer she got. Sumire was personally requested to take part in the Audition to determine the Image Girl for a brand new Shampoo, but she lets her know that the decision is up to her and in hopes of making her feel better, tells her that she has plenty of time to figure out which idol path she wants to take.
Once Sumire leaves, Orihime brings up that she recalled the time when Sumire said she loves to sing and enjoys doing it, then remarks that a lot of her job offers only come to her because of her beauty. She has the choice of pursuing the idol path she enjoys the most or picking the one where everything comes easily.
After a while, Akari notes seeing how hesitant Sumire is to accept this shampoo audition and asks if her if she really wants to do it or not. Sumire is unsure, and Akari claims she was sure that Sumire would try to keep singing instead of taking modeling work, and Sumire mentions that while she does love singing, she is happy to have actually been singled out for a specific job. If all of the industry veterans think this is the path she is suited for then she should probably just stay on it; which is an answer that disappoints Akari.
After a photo shoot, Sumire takes a break and feels herself get sad as she hears the staff discussing her and the upcoming Shampoo Girl Audition. To her surprise, she spots another Audition for Rookie Singers to get a CD Debut, and she notices that it will be on the same day as the Shampoo Audition. She takes the time to observe the auditions post after arriving back to the academy and decides that she can't just blow off the model audition.
Sumire comes to the office afterward and meets with a woman named Mizutani. She is in charge of the shampoo commercial and has dropped by to meet Sumire and give her some samples of the shampoo since she will be partaking in the audition. She is sure Sumire has the looks of someone they were searching for and is very excited to see her audition. While Sumire seems just as happy, Orihime has her doubts.
Sumire returns to her dorm room and decides that she made the right decision to just do the model audition for the shampoo when Akari arrives with a bag. She asks Sumire to wait and runs off, returning with some tea - which surprises Sumire as she notices it is the same type her sister makes. She thinks about her love of singing again and reveals just how shy she used to be, before joining the school. Her sister convinced her that she was talented enough to do it and because of Akari's own words, she comes to her final decision.
At the Shampoo Company, Sumire brings Johnny-sensei with her as they talk to Mizutani. She apologizes for turning down the offer and explains that above all else, her idol dream is to be a singer. She is unsure if she will pass this upcoming audition for a debut CD, but she wants to try and follow her feelings. While Mizutani admits to being disappointed, she is happy that Sumire is honest and came to speak to her in person to let her know. She mentions that she would like to hear Sumire sing, and Sumire promises to do her best.
With the time remaining, Sumire went on to train and sing, and because of Akari's help, she got over her cold. When the audition approaches and Sumire participating in it, using a recently acquired coord from the brand, the Magic Midnight Coord.
Vampire Mystery
The girls from Starlight Academy, along with Mizuki and Orihime worked on a vampire drama together. LoLi GoThiC was heavily featured during the episode, with Juri as the heroine dressed in the Pink Spider Coord, Sumire wore the Blue Rose Noble Coord. and at the beginning, Yurika wore her Nightmare Capricorn Coord before turning Sumire into a vampire.
The Runway and a New Song
As the girls prepared for an upcoming television show they would be featured on - they anxiously anticipated facing the "Devil of Talk Shows" and worked hard to practice and prepare for it. In this time, Sumire obtained the Violet Hatter Coord to use for her performance with Akari and Hinaki.
She would go on to use this coord for a few more solo performances.
Idol Battle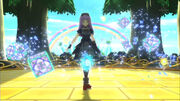 Akari and Hinaki decided to surprise Sumire by filming her so that the fans could see a new side to someone as cool and perfect as she seems to be. However, after all of their attempts failed, the girls were able to get a reaction from her after Akari almost got hurt.
Back in the van, they confessed to what they had been doing and as a present; they rewarded her with a new Dream Story set of cards Maya delivered: The Growth Dorothy Coord.
Luminas Performance
Eventually, the girls decided to form a trio unit in order to compete in the brand new Starlight School Festival taking place. They worked for a long time to come up with a unit name - which was inspired by Hinaki after they witnessed a recent photo of her that had been put into town.
For their first performance, the girls wore matching Dream Story coords, with LoLi GoThiC contributing the Flute Mystery Coord.
During season four, LoLi GoThiC contributed the coord Sapphire Chandelier Coord for the girl's Halloween special performance.
At the last performance of the tour, the guest performers, Ichigo, Mizuki, and Juri used the Black Santa Coord, while the members of Luminas used the White Santa Coord.
The Queen's Decision
Akari and Hinaki have gotten ideas for what they would like to deliver to their fans for the Starlight Queen Cup, but Sumire has yet to decide what type of queen she wants to be. Sumire then continues to think and made the decision that she will reach new heights through singing as the Queen. Later then, Sumire received Blue Empress Coord which is inspired by Sumire's dream to be the Queen.
Cardlist
Data Carddass Aikatsu! Collection Cards
Promotional Cards
Coords
Gallery
Main article: LoLi GoThiC/Image gallery
Trivia
Currently, this is one of the two brands that have the largest amount of known users, the other being Magical Toy.