| | |
| --- | --- |
| | This article is a featured article, meaning that it has been considered and chosen by users and contributors to be one of the best articles Aikatsu Wiki has. |
Happy Rainbow (ハッピーレインボー , Happy Rainbow) (also stylized as ''HAPPY RAINBOW'') is Otome Arisugawa's favorite brand. It symbolizes a "pop" personality in a cute and lively fashion. The top designer is Makoto Nijigahara. It was introduced in the second collection and debuted in Episode 12 - We wish you a merry Christmas!.
About
Brand Concept
Like colorful candies, pop coloring, and pretty designs, anyone can smile spontaneously! The Happy Rainbow brand, like a rainbow lighting up the blue sky, features vivid colors and fruit motifs which goes well with active girls. Please enjoy the dresses that actively address your personality.
Known Users
Top Designer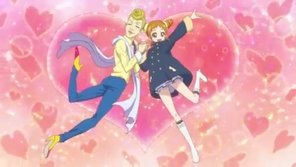 First mentioned in Episode 15 after Otome scores a last-minute appointment, she runs into a strange man while helping out an older woman trying to locate a specific tree. Otome later finds out this man is really Makoto Nijigahara, Happy Rainbow's Top Designer. He is in a foul mood since she showed up too late but after recognizing the charm Otome has, he realizes the woman she tried to help was an old love of his fathers and officially befriends Otome.
Chronology
Happy Present
As thanks for putting together the Christmas Party and helping a classmate feel better, Orihime rewarded Otome with her first Happy Rainbow coord set: The Happy Funky Coord.
Meeting Makoto
After the girls convince Otome to try to get her hands on a premium coord for the Mark of Appearance, Otome discusses her joy of Happy Rainbow. They go to Johnny to ask him for help locating the top designer and he mentions how picky Makoto is. But he can easily set something up; only to fail and rely on Orihime for some help.
While Otome heads out to locate the Happy Rainbow office, she comes across an older woman trying to find something. She used to live in the town back when she was younger and wishes to find a big camphor tree - as it holds sentimental value. Otome is touched and wastes no time trying to help the woman find it. They are joined by the other three, who help Otome carry the older woman after she wears herself out. Eventually, they are able to locate the remnants of the tree and the woman explains why it was special to her. As a reward for the help, she gives Otome her pendant from the past event.
Otome continues on to her appointment and arrives a few minutes late - but the man she ran into earlier turns out to be Makoto. He refuses to listen to Otome, stating that she is too late and only came for the coord he made. She takes the blame for showing up late after the others try to help her, but before she leaves Makoto happens to spot the pendant. He questions why she has it and as it turns out, his father was the man who turned down the older woman from earlier. He shows Otome the matching charm and Otome decides to let him have it so that he can have the complete charm. Touched by her generosity, Makoto decides to reward Otome with the Tropical Basket Coord.
Mastery of Communication
For the recent, upcoming audition the girls decide to form a group. While they train and try to convince Sakura to join them, Otome randomly takes off to pay Makoto a visit.
A bit later, Aoi reveals that she was able to locate Green Grass from an interview with Makoto. He is close friends with the twin top designers of Aurora Fantasy and sometimes they would meet up to discuss fashion or just snack on sweets. They call Otome, thinking this may have been why she left - but as it turns out, she went to ask Makoto for a brand new Premium Rare. Her comments were able to inspire Sakura to keep going, and after she heard how much Sakura loved Aurora Fantasy, it encouraged her to demand a new coord to spread her own love too.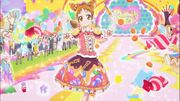 Having already been preparing a premium rare, Makoto presents Otome with the Marble Candy Coord. Which she would go on to use to pass the audition and to replace Tropical Basket.
Taurus Constellation Dress
Otome gets a call from Makoto while cleaning a building. He reveals that he chose her as an influence for Happy Rainbow's first Constellation Premium Dress and would like for her to come model it during an upcoming show. She accepts but he admits that he's having trouble thinking up a stage to go with it. For more inspiration, he goes to search for something resembling Otome.
As Maria and Otome sit down to chat and get to know each other more, they are unaware of Makoto eavesdropping on them. Feeling inspired by her past tale, he runs off to finish the stage before the day of the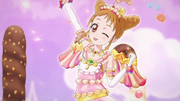 show.
In the dressing room, Makoto listens while Makoto introduces himself and explains where he got his inspirations for Happy Rainbow and how it started. He explains why he knows Otome is the perfect model and representative for it, then reveals the Lollipop Taurus Coord for everyone to see as Otome goes to change into it.
Cardlist
Data Carddass Aikatsu! Collection Cards
Promotional Cards
Coords
Gallery
Main article: Happy Rainbow/Image gallery
Trivia