Gorgeous New Year Tower Coord
ゴージャスニューイヤータワー
Statistics
Type
Gorgeous
Rarity
Premium Rare
First Appearance
Anime
Koh-haku Aikatsu Gassen!
 Gorgeous New Year Tower (ゴージャスニューイヤータワー, Gorgeous New Year Tower) is a card used by Sabuko Nishijima in Episode 63 for her Enkatsu performance. It is a Gorgeous type card. Since this card is extra large, the dress does come out extra large, even taller than the event arena itself.
Description
A pale turquoise ballgown with lighter colored designs at the center of the torso. At the middle of the chest is a ruby gem that connects it to a necklace. Framing the hips is a gold band, followed by the ruffled, three-layer skirt, with each layer larger than the prior. Ruffled, pale layered sleeves expose part of the shoulder. An ornate tiara is included.
Trivia
The appeal points, 3250, is a Japanese play on her name, Sa(3) bu(2) ko(5).
The Dress Appeal is Regal Presence (

大御所の風格

).
Gallery
Video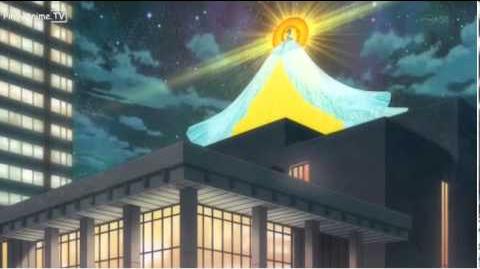 Community content is available under
CC-BY-SA
unless otherwise noted.