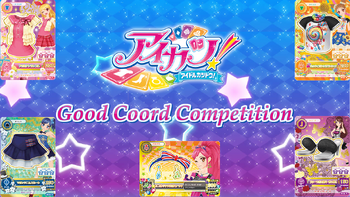 The Good Coord Competition is a wiki event held to allow users to compete using Aikatsu! Cards to create Good Coords. There are several rounds in the competition, and each round has a different theme.
Competition Process
Judges suggest a theme for Round 1
Users create their Coords
Judges give marks to Coords
Proceed to Next Round
Winner Announcement
In each round the Participants with the most points will advance to the next round. Anyone can enter the first round, also users can make their own comments about the coords they like, but if any try to give a score to their own coords, the judges' scores will be ignored, and they are therefore eliminated. If there are any ties there will be an extra round to decide who goes through. of course contestants are allowed to draw the coord they wish to enter.
Competition Policy
Judging
There will be a total of 5 judges. each judge will get a max. of 6 points to give a coord.
The points get broken down into 3 categories.
 
Appearance: Does the entire coord go well together;
Theme: Does the coord match the theme the judges have chosen.
Originality: Is the coord original or is it similar to coords that have been used for GCWC's beforehand.
If 2 cards are used that have already been used in previous coords, you will be marked down.
If all cards are the same type, you will be marked down as well.
Policies
Cards released after the Round started are not cards users can use for the Good Coords.
No claiming others' work as your own unless you have 100% proof.
No disrespecting peoples' drawings, or you will be disqualified.
Control your emotions if you are disappointed about getting disqualified.
All hand drawn files must follow the naming format of: "username_round?.extension".
No changing the entry after it's been posted or it won't be judged.
Competitions
Community content is available under
CC-BY-SA
unless otherwise noted.