Otome RAINBOW!
(

おとめRAINBOW!

)
 is the 83rd episode of 
Aikatsu! TV anime series
 and the 33rd episode of its "2nd Season"
(2年目 lit. "Second Year")
. The episode aired on May 22, 2014.
Story
Having become such close friends with Otome, Maria decides to pay her a visit to learn more about her. When she finds Otome in an unexpected place, the Rainbow Maiden proceeds to tell her about her past...
Summary
One early morning Otome is preparing for the day. She brushes her long hair and pulls it up into her normal twin cones before heading off.
Later, a disappointed Maria is found in front of the dorm gate by Ichigo, Aoi, and Ran. She asks if they have seen her, explaining that she wanted to invite her for tea and snacks in hopes of getting to know her a little more. The trio recall seeing her rush off in a hurry though, and they glowingly praise their friend.
Otome arrives to a cute and colorful building and hurriedly starts cleaning the windows. She is stopped when Makoto, the top designer of Happy Rainbow calls her to bring up that she was the influence for the the brands very first Constellation Premium Dress. He would also like her to wear it during an upcoming show, but he's having issues with the stage design and was hoping she might have some advice- he wants to do it himself because it's special though. Hearing his concern she asks if he is okay, and he claims he is before hanging up. Makoto looks over his sketches he has sitting before him and unable to think of anything, he decides to go and find some inspiration by looking at Otome.
Otome is delighted by the news when she is shocked to find Maria nearby. Maria explains that Aoi had a hunch as to where she was, and she gave her directions. However, she is curious as to why Otome is here at a Kindergarten; until Otome points out that it's run by her parents and it's her home when not at the Academy. Maria remarks on how such a setting fits Otome, then she offers to lend her a hand in cleaning. While doing this, Otome explains that it's empty today because everyone is out on a field trip, then she brings up that a fun fair is coming up and she can't wait to help put on the Play for this year, The Wizard of Oz. Maria asks if she can help her set the stage for it, then she asks Otome to share with her some memories after Otome mentions having many.
When she was little, Otome always loved to sing and dance. After entering elementary school she began to help out around the kindergarten after school, although she mainly just played with everyone. For that year they decided to put on The Wizard of Oz play for the Fun Fair and everyone had a lot of fun; except for the girl who was playing Dorothy, Nagisa. She had been very nervous and often panicked when it was her turn to go over her lines. She eventually hid on top of the slide in the jungle gym, and Otome asked her to come down but she refused, and she can't understand why that is since she really wanted to be Dorothy. She offered to help her go over her lines, but this only caused Nagisa to compare the talented Otome to herself and she felt worse. In hopes of calming her down and showing that she had faults as well, Otome admits to being frightened of the slide.
As Maria and Otome begin to repaint an old, faded rainbow prop, Maria stops to ask Otome about this. She explains that as a child she had a big fear of heights; then she wonders if Maria ever went down a slide before. Maria mentions that she hasn't, but she did use to slide down the mountains at home. She asks about Nagisa again, who was very surprised to learn this while they observe the slide.
Otome was very nervous as she approached the slide to try to get closer to Nagisa. She was terrified, and admitted to feeling envious of the others when she saw them use it. She's tried several times to go down, but she's unable to; but she keeps trying because someday she wants to. She then goes on to ask Nagisa to make a promise with her, that one day she will face her fear of heights and Nagisa will continue on to be Dorothy. They pinky promise and since then, they both began to work towards their respective goals. They struggled, but they kept working hard.
But on the day of the fair, Nagisa panicked during their final rehearsal and ran from stage. Otome chased after her and tried to convince her that she needs to keep trying, because they worked so hard to get here. Nagisa refuses until Otome reminds her of their promise, then she boldly heads outside to approach the slide again. Nagisa curiously watched her until realizing that she was going to try go down the slide, and she saw how nervous Otome got. But Otome happily realizes that she's made it up there in seconds and she's perfectly fine, and for the first time she goes down the slide. Nagisa happily congratulates her and they embrace.
Now, Otome and Maria stand on the top of the slide. Otome brings up that since then she has fallen in love with slides, and she enjoys getting the chance to go down one when she has time now; and because of their efforts, Nagisa was also able to go on and perform as Dorothy for the play after all. The girls go down the slide together, unaware of Makoto observing them from the background. He takes off after a few minutes as Maria recalls the snacks she brought with her and the duo run inside.
On the day of the show, Ichigo, Aoi, and Ran have arrived to see. Aoi remarks on all of Otome's excited fans as Ran mentions how late Otome stayed up to practice.
As Otome is brushing her hair and pulling it up in the dressing room, Makoto appears on stage to introduce himself to the audience and brings up his inspiration behind Happy Rainbow and how it started, and why Otome is the perfect representative of his brand. He reveals the Lollipop Taurus cards to everyone on the monitor as Otome heads backstage, where she inserts the cards and appears on stage to perform CHU-CHU♥RAINBOW.
As the performance goes on, the girls admire the sweet, lovely stage, as well as the coord.
Afterwards, Otome returns to ask Makoto about the slide that appeared during the song and how surprised she was to see it. He reveals that the other day he saw her on the slide with Maria, and he just had to include it. They are joined by the others, who have come to compliment Otome's efforts before Makoto brings up that another girl stopped by as well: Nagisa. Otome is surprised to see her but they quickly embrace as Maria asks about her, wondering if she is the same girl. Otome confirms this before admiring how much Nagisa has grown since they were little, then Nagisa reveals that she's been a long-time Otome fan and watches her perform. She's been supporting her since they were little and she intends on continuing, causing Otome to embrace her again as everyone starts to laugh.
Characters
Trivia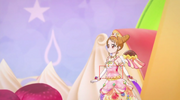 Animation Trivia
This is the first time Otome's past is looked into in the anime.
At one point during the performance, there was an animation hitch which altered the design of the Lollipop Taurus Coord.
Gallery
Community content is available under
CC-BY-SA
unless otherwise noted.