Move on Now!
is the 9th episode of
Aikatsu! TV anime series
. The episode aired on December 3, 2012.
Synopsis
As Ichigo, Aoi, and Ran train for their special audition, they ask Johnny for help in obtaining Premium Rare Cards.
Summary
The girls are all busy training for the special audition coming up. Ichigo and Aoi are too tired to continue on but Ran tells them that they need to do at least five more laps before they can stop. They need to work twice, maybe even three times harder than usual, and normal training isn't good enough. With this in mind, Ichigo agrees to keep working.
Inside the school again, Ichigo expresses joy that she can perform with both Aoi and Ran, and Ran brings up Premium Rare cards after recalling the text she received recently. She explains their rarity and difficulty to obtain, and in order to learn more the girls ask Johnny-sensei. He goes over how special they are, pointing out that only the Top Designer can hand them out, and only if they approve an Idol. It sounds impossible, but he promises to set up appointments for each girl and the designer of her choosing- only to leave and immediately ask Orihime for help. 
During lunch, Aoi brings up the song they should perform, and Ichigo suggests Mizuki's "Move on Now!", since it's very special to her. Ran also likes the song and agrees before deciding that in order to get even more practice, they should use their breaks to train. Once they finish eating they head off for a quiet location to do some training in private, but they find it difficult as the girls grow more aware of Ran's distance with them. They try to encourage her to be friendlier, but when it doesn't work they give up and resume training.
As the days pass the girls work very hard until the day before the audition. They finish the song and decide to focus on something else, since they put in a lot of work up until this point. But they remember how Johnny has yet to get back to them on their appointments and decide to confront him on it. He promises that with a little more time things will work out, so they head over to the library to study the brands a little more.
While there, Aoi spots Michelle and Asami, two girls who formed a duo unit, and she begins to fawn over them. As she goes to greet the girls Ichigo joins her, with Asami pointing out how strange it is to find Ran being so casual, and how she never really comes to the library. She also offers them a bunch of papers, revealing that Michelle has accidentally made too many copies.
They are joined by Johnny, who has come to announce that he got Ran and Aoi appointments. However, he hasn't heard from Ichigo's choice designer yet. With little time left to spare, Aoi and Ran leave to hurry up and get to their meetings while Ichigo heads back to the dorms.
While waiting, she decides to use this time to brush up on the history of Angely Sugar; only to fall asleep not too long after. She is awoken by the arrival of her friends, showing her their brand new Premium Rare coords. While she is happy for them, she is beginning to feel anxious.
Still having heard nothing in this time, they make the decision not to use their Premium Rare cards if Ichigo has yet to receive hers. For the time being they decide to do some practice, and just as they finish Johnny arrives, having finally heard from the designer. Unfortunately it's too late for Ichigo to go and return in time for the audition, so he suggests she waits. However, Ichigo remains stubborn and refuses, so he offers to give her a ride to Angely Mountain.
Upon finding a sign that points out the direction of the Angely Sugar building, Johnny informs Ichigo that he cannot go any further. She thanks him and steps out of the car to head to a crossroad; both of which have paths with the same sign on them. She tries using the electric map provided on her phone, along with a hand-drawn map after the batteries die.
Aoi and Ran are highly concerned regarding Ichigo and if she will return in time. They try to contact her but they get no response as a man comes into the waiting area to inform them that it will be their turn soon. He warns that they will just have to perform as a duo if Ichigo is unable to return in time.
As this is going on, Ichigo is busy mountain climbing. By the time she reaches the top, she is found by the Gardener, and older male who brings her inside to meet the top designer; a gentle older woman who is surprised Ichigo actually climbed the mountain to reach her. She brings up how old the map is, and points out that there is an elevator they put in some time after the map was made, and she could have used it.
The woman introduces herself as Asuka Amahane and Ichigo introduces herself before mentioning why she came so suddenly. She asks to use the Premium Dress while describing her love towards Angely Sugar, and Asuka agrees before revealing the wardrobe. She goes on to say that Ichigo is worthy of the brand due to her bravery; risking her life by climbing the mountain just to speak to her. She finds this to be a sign of fate and decides to give her the cards of the Aurora Kiss Coord. Once she changes the outfit items into a set of cards, she thanks Ichigo for stopping by and they lead her to an elevator, so that she can use it for future purposes. Ichigo takes her leave after thanking them.
Aoi and Ran realize that only ten minutes remain before they will be forced to go on without Ichigo. Michelle and Asami have just finished, but to their surprise, as the final minute approaches Ichigo suddenly runs through the door. She is worn out but very happy, and she claims that they will always be okay as long as they believe in each other. In this time, the girls also notice Ran join in on their special chant, and how she has began to address Ichigo by name. But with little time to linger on this, they run into the changing area and get on stage, performing "Move On Now!".
After their performance, Orihime announces that the trio, along with Michelle and Asami have all passed the Audition. Ichigo is so excited that she can't sleep and she goes out for a walk while observing the mastery mark they received for passing. But while she is out she runs into Mizuki, who comments on how well the girls did before taking off.
Character Appearances
Trivia
Major Event
Ichigo, Aoi and Ran take their very first special audition.
Animation Trivia
This is the first episode to use the 2nd generation CG technique in Aikatsu! The DCD hairstyle is kept half, and the face changed to appear less thinned and flat. 
Ichigo, Aoi, and Ran get the Knowledge of Song which introduces Knowledge in the anime.
This marks the debut of Michelle Tachibana and Asami Himuro.
This also marks the debut of Asuka Amahane.
This episode also marks the debut of Aurora Kiss Coord, Milky Way Cosmic Coord and the Rose Bonbon Coord
This episodes Aikatsu! Aphorism is the very first one to be written out in English.
Gallery
Videos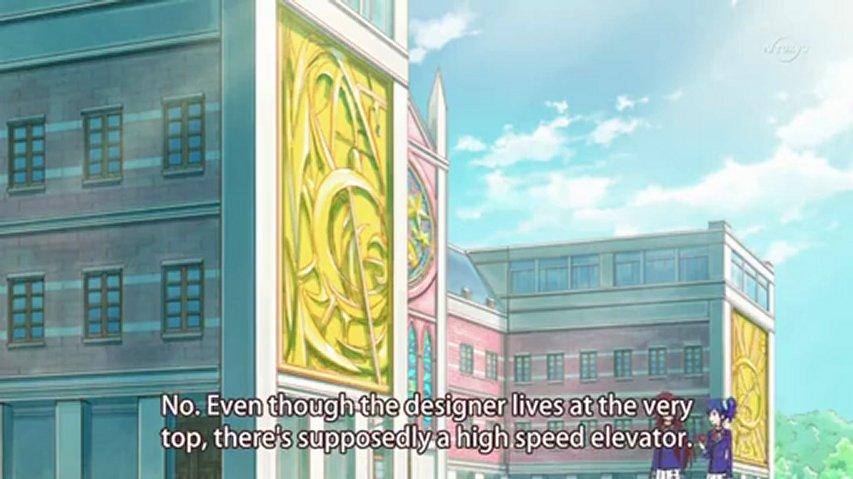 Community content is available under
CC-BY-SA
unless otherwise noted.