The Underground Sun
Episode 08
Episode Information
Kanji
地下の太陽
English
The Underground Sun
Air Date
Japanese Air Date
November 26, 2012
Other
November 8, 2014 (Indonesia)
January 29, 2014 (Hong Kong)
December 5, 2014 (Taiwan)
Featured Songs
Opening
Signalize!
Ending
Calendar Girl
Insert Song
Idol Activity!
Episode guide
Previous
Next
← Beware of the Tweets
Move on now! →
The Underground Sun
(

地下の太陽

)
is the 8th episode of
Aikatsu! TV anime series
. The episode aired on November 26, 2012.
Synopsis
Ichigo discovers an underground studio after getting lost. The mysterious idol she meets is later revealed to be Ran's rival; and with an upcoming annual audition, Ran is determined to beat her!
Summary
Ichigo is currently in the middle of a vlog as she goes around the campus, detailing her adventure; taking some items to the underground storage room that was used for drama class earlier. She soon realizes she has gotten lost and happens to notice a light up ahead. She approaches it to find a window, and peeks inside to get a better look to find a girl training. However, the light makes it hard to recognize the girl.
While waiting for class to begin, Ichigo describes what happened to Aoi and points out that since they started there has been a girl who doesn't attend class. They decide to ask Ran since she has attended longer, but Johnny Bepp arrives to announce the arrival of a sensational audition coming up; one that determines the most popular student at this time. Whoever wins will get to go on a special trip to Hawaii for a photo-shoot, along with a few other prizes. Everyone believes Ran has this already won, but she admits that every year she keeps losing to one specific girl.
Suddenly a girl walks into the room, immediately stealing the attention of everyone. As Johnny greets her Aoi quickly recognizes the girl and informs Ichigo of who she is, bringing up her several talents and how she has never once performed on a live stage before.
Once class ends, the girls decide to get to know the girl, Hikari. She doesn't recognize them until Ran approaches, mentioning how they joined around the time of her Net Live Tour. They explain how this is a concert broadcasted around the world and shown online. With that, Ran watches Aoi and Ichigo excitedly chatter as Hikari prepares to leave. She voices an interest in competing against Ran again, which frustrates her as the girls mention being excited to see her perform. They invite her to join them but she storms off.
Later, Ichigo and Aoi attempt to find the storeroom again, when Ichigo spots the light from before. She recalls how it led to the studio from earlier and they look inside again- now realizing the girl they saw was Hikari. Before they can react, Hikari turns the light out and appears, scolding them for watching her like this. They try to explain why they were there but she remains frustrated by their intrusion and reasons that it would be worthless to reason with them.
Once they exit, Ichigo and Aoi find Ran practicing outside. She mentions the anxiety she has gained and feels rather pathetic because her usual skills won't be good enough to put her onto the same level as Hikari. As the girls mention what happened earlier, she brings up how Hikari has always been secretive. While she values her privacy, she always puts her fans above everything else.
At their Dorm, Ichigo and Aoi start to wonder how talented Hikari really is since Ran never gets worked up like this. They decide to check some information out, and find the concert she recently did. They notice several messages and comments she received from the fans during it.  
Meanwhile, Johnny and Orihime are going over Hikari's reappearance. 
While Ran is busy stretching in her room, she notices Ichigo has been by to drop off some juice. She appreciates the gesture and attempts to have Aoi and Ichigo join her for some, but due to her awkwardness it escalates into a demand. They look on in amazement while observing her room while explaining what they did to make the juice; including Ichigo's attempt to add Yakiniku until Aoi stopped her.
It's then Ichigo spots a pair of Spicy Ageha cards and Ran mentions how it is her favorite brand and how she only uses them for bigger performances. She brings up obtaining them after meeting the model who runs Spicy Ageha about a year ago, after being encouraged to speak to her, since she rarely comes to the school. She got a chance to perform while wearing the brand clothing, and some time later she found these cards in a letter sent to her.
Touched by this story, Ichigo decides to eat some Yakiniku for everyone in order to use the energy she will gain to cheer for Ran.
Soon the Audition arrives, and as they wait, Ran and Hikari chat for a bit. Hikari believes that Ran has changed since their last battle, since she's never seen her like this. Ran explains how she never thought about her friends before a performance, but now she is. With that they change outfits and get onto the stage to perform "Idol Activity!". 
After the performance Hikari and Ran speak outside of the building again. Hikari compliments Ran for doing much better this year and claims that she may almost be at her level. This makes Ran happy and she mentions that next year they will finally settle their rivalry, and Hikari agrees before they part ways.
As Ran arrives back to the dorms she finds Aoi and Ichigo. They congratulate her and ask her to train them, but she hesitates until recalling the special Trio Audition approaching. She asks them to join her for it, and while she has never done it before, the girls are very eager. 
At home, Raichi talks to his mom about the special audition coming up. He also happens to see the Vlog Ichigo made recently. They watch it until it ends before commenting on how she hasn't changed at all.
That evening, Ran is surprised to find a text message from Hikari. She brings up how the girls should make sure they wear Premium Outfits for their audition, and that she plans on watching them- so Ran better not let her down.  
Encouraged by this, Ran decides they need to do more training and demands one-hundred more squats. In response they call her a demon coach.
Character Appearances
Trivia
Gallery
Videos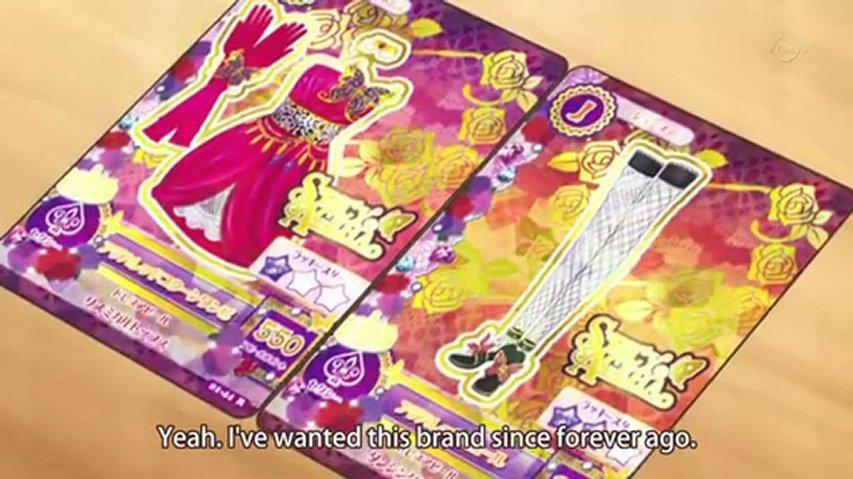 Community content is available under
CC-BY-SA
unless otherwise noted.