| | |
| --- | --- |
| | This article is a featured article, meaning that it has been considered and chosen by users and contributors to be one of the best articles Aikatsu Wiki has. |

Dreamy Crown (ドリーミークラウン, Dorīmī kuraun) is a cute brand that debuted in the 2015 Series - 1st collection and in Episode 106 of the anime. Its top designer is a young man named Tsubasa Sena, the pupil of Asuka Amahane. The brand's main user is Akari Ōzora.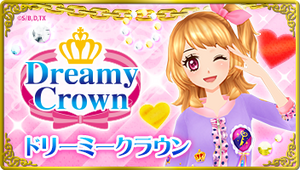 About
Brand Concept
A new brand launched by Tsubasa Sena, the pupil of the master of beauty, Asuka Amahane. Suited for independent girls, this brand incorporates cute elements with designs that have just the right amount of sweetness.
Known Users
Top Designer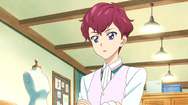 Always found for fashion, Tsubasa began to make his own clothing around the time he entered Middle School. He found himself attached to the Angely Sugar designs and began an official career working beneath Asuka Amahane until she felt he was ready to begin his own Brand. Serious and determined, Tsubasa is one of the youngest Designers in the series so far. He tends to work at his own pace.
Chronology
Halloween Royalty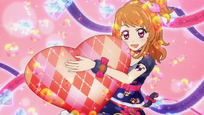 The girls discuss the brand new Halloween Coords that were being shown off on the new Aikatsu Navi. Whoever will be performing at the end of the Nightmare Party will receive one from either Vivid Kiss, Loli Gothic, and Angely Sugar. As well as a brand new Brand, known as Dreamy Crown. The only known facts involving it is that the Designer used to be an assistant of Amahane, and Hinaki is very sure the brand will gain popularity soon enough, due to the reputation involving the young designer.
Initially Akari planned to choose the design by Angely Sugar, which was her preferred brand up until this point. But to her surprise she chooses the cat design by Dreamy Crown, and feels something deep within urging her to choose it. So she does and goes on to perform.
Two Dreams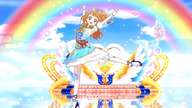 After learning about Decisive Battles and getting a request for her first solo live, Akari decides to track down the Top Designer and speak to him to try to get her first Premium Rare.
When she reaches the official Dreamy Crown building, deep in the woods near Angely Mountain, she meets Sena. She is surprised to know that he is the designer, as well as the fact that he watched her Halloween performance. He brings her in while she explains how much she loves the Brand; both for how cute it is, and because of how proper it looks. Sena reveals something that he kept covered in the room to reveal his very first Premium Rare dress. His discussion of "decisiveness" reminds Akari of her own battle and she offers to help him after he reveals he is missing the dye needed to make the final accent piece needed for the Dress. Otherwise, it won't be ready for a month or two.
She returns a bit later with the berries Sena requested and he quickly finishes. However, the color wasn't what he had in mind, and he wonders if something happened. Akari offers to grab more and takes off, leaving him surprised as he resumes working on minor details. She returns with another set of berries, only to take off a third time when it doesn't work out again. While they wait for him to finish this next color test, he explains how the name "Dreamy Crown" came to be: he imagined a crown filled with his many dreams; and to match this crown, he had a desire to make a top brand with the regal flair to match.
With the Dress finally finished, Akari fawns over it as Sena transforms it into a pair of cards. She thanks him and takes off afterwards. 
She would later go on to use this card in a few other performances. Including one with its partner coord worn by Sumire, Odile Swan Coord, a Christmas event, and an event that took place during their Off-time.
A while later, Akari used the Pink King Mouse Coord, which she gained and wore for an Audition.
Dreamy Bouquet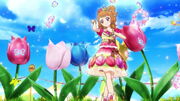 After Akari hears the news of Tsubasa's announcement for a brand new Premium Dress, she excitedly chats about the recent Romance Dresses they have seen up to this point, including the two he designed. Akari attempts to think about the next dress and decides with an upcoming concert, now is the time to try to get access to it. While she already gained the two from Sena so far, she knows there is a chance she won't get a third one. But she decides to just keep working for the time being. 
As Sena tries to get some inspiration he turns to Amahane for some advice. But as she speaks, he is encouraged to base the coord around Ichigo, who is her own "muse" of sorts for various ideas. One day he would like to make a coord for her and decides that this may be it. However, after a run in with Akari he begins to reconsider after gaining some inspiration. After hearing Ichigo speak about Akari, he also decides that she should be the one in this Dress. 
After missing the train, Akari is surprised when she spots Sena standing just across from where she is. He hands her the cards and comments that it was due to her that he even finished. he wishes her luck and takes off. After her performance, he reunites with Akari and explains that a Designer and Idol are like a team, and together they help each other to keep going. But he warns Akari that if she should ever start to falter he probably won't give her anymore dresses. At first Akari is confused, but she smiles and promises to keep giving everything she has.
Akari would later go on to use this coord for her entry in the Starlight Queen Cup.
A while later, Akari gained Grace Fox Coord.
Skips♪ and Other Stories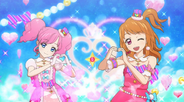 For their Unit, Akari and Madoka had a collaboration set of coords designed by Sena and Asuka. These being Skips♪/Dream Sky Coord and Skips♪/Sweet Sky Coord. A bit later, Akari's coord was slightly modified by Sena.
Soon after Akari gained the Girls' Magic Coord from the story, Arabian Nights. In her first trio unit performance with Sumire and Hinaki, she gained the Girly Violin Coord from "Town Musicians of Bremen."
After arriving to Kyoto, Akari wore the Jewelry Boom inspired dress from Dreamy Crown, the Ruby Blossom Coord.
Perfect Dream Idol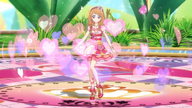 Akari meets a fellow Dreamy Crown lover, Tsubaki, who wants more than anything to obtain a PR from the brand. She deduces that Tsubasa follows Akari around, given how he tends to appear whenever she has an event going on. Tsubaki also reveals she had made a request once already, but she was turned down, so she wished to find out why Akari was so great.
After her hard work seems to fail, Tsubaki confesses her true feelings to Akari one late evening. She admits that she doesn't necessarily see herself as perfect like everyone else does, and has doubts that she even deserves such a title, but she is sure if she could just get one Dreamy Crown Premium Rare Dress, it would put her doubts to rest.
When Akari's performance rolls along, they observe the coord she planned to use while Tsubaki realizes that while she may seem like the perfect person - she has a long way to go before she's a perfect Idol. After she watches Akari's performance, she happens to spot Sena and approaches to speak to him. He took off but gives his own word of encouragement, causing her to feel much better.
Cardlist
Data Carddass Aikatsu! Collection Cards
Promotional Cards
Coords
Gallery
Main article: Dreamy Crown/Image gallery
Trivia
This is the first new brand to debut in Aikatsu's 2015 Series and 3rd season and the first cute-type brand to have a male top designer.
This is the second brand to have a mascot (Dreamy Puppy).