Jurassic World: Dominion Dominates Fandom Wikis - The Loop
Play Sound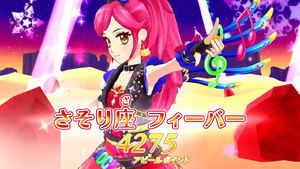 Constellation Fever (星座フィーバー, Constellation Fever) is an appeal-like feature seen in the Constellation System. The performers use this as they enter the stage.
Theory and Description
Earlier in the series, Constellation Fevers could only be executed after the respective performer has gained the Proof of Constellation for the necessary constellation. For an example, Ran, Ichigo and Seira are allowed to perform a fever as they've acquired their respective constellation from their previous performances.
As the series goes on, a Proof of Constellation is no longer needed to perform a Constellation Fever.
List of Constellation Fevers
Episode No.
Image
Performer
Stage
Constellation
53

Ichigo Hoshimiya and Seira Otoshiro
Musical Neon Stage (Cool)

Scorpio
(さそり座


Sasori-za

)
61
Sora Kazesawa
Arabian Palace Stage (Sexy)

Libra
(てんびん座


Tenbin-za

)
64
Ichigo Hoshimiya
Heavens Runway Stage (Cute)

Pisces
(

うお座


Uo-za)
66
Kī Saegusa
Trick House Stage (Pop)

Sagittarius
(

いて座

Ite-za

)
67
Sora Kazesawa
Arabian Palace Stage (Sexy)

Libra
(てんびん座


Tenbin-za

)
Ran Shibuki

Leo (しし座


Shishi-za

)
68
Maria Himesato
Fairy Flower Stage (Cute)

Aries
(おひつじ座


O hitsuji-za

)
69

Ichigo Hoshimiya

Pisces
(

うお座

Uo-za

)
71

Aoi Kiriya
Aurora Galaxy Stage (Cool)

Aquarius
(

みずがめ座 Mizugame-za

)
75
Mizuki Kanzaki
Crescent Cruise Stage (Sexy)

Virgo
(おとめ座


Otome-za

)
82

Ichigo Hoshimiya
Belt-Chained Dome Stage  (Cool)

Pisces
(

うお座

Uo-za

)

Seira Otoshiro

Scorpio
(さそり座


Sasori-za

)
83

Otome Arisugawa
Dessert Land Stage (Pop)

Taurus
(おうし座


O ushi-za

)
84

Mikuru Natsuki
City Night Road Stage (Pop)

Cancer
(かに座


Kani-za

)
89

Yurika Tōdō
Gothic House Stage (Cool)

Capricorn
(やぎ座


Yagi-za

)
93

Mikuru Natsuki
City Night Road Stage (Pop)

Cancer
(かに座


Kani-za

)

Mizuki Kanzaki

Virgo
(おとめ座


Otome-za

)
94

Ichigo Hoshimiya
Belt-Chained Dome Stage  (Cool)

Pisces
(

うお座

Uo-za

)

Seira Otoshiro

Scorpio
(さそり座


Sasori-za

)
98
&
100

2wingS
Cute&Cool Stage

Gemini
(ふたご座


Futago-za

)
Gallery
Game
Anime Screenshots