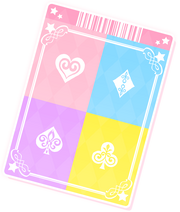 The Aikatsu Cards are used by students of idol-producing schools such as Starlight School and Dream Academy and other idols to dress up their appearance. There are also brands, each with it's own top designers whom works to design dresses for the Aikatsu Cards. The cards are also released in real-life with modified look under Cardass and Bandai titled "Data Carddass Aikatsu!". The cards contain digitized clothes which are worn by idols during performances and auditions. The clothes come from various types of brands and have varying degrees of rarity. Although most clothes come in specific coordination, players are also able to mix and match different cards to find a good combination.
They are divided into four categories: Tops, Bottoms, Shoes and Accessories, with some cards, such as one piece dresses, eliminating the need for others.
Card Guides
Types
| Image | Type | Example |
| --- | --- | --- |
| | Cute | |
| | Cool | |
| | Sexy | |
| | Pop | |
Categories
| Image | Category | Example |
| --- | --- | --- |
| | Tops | |
| | Bottoms | |
| | Shoes | |
| | Accessories | |
| | Tops & Bottoms | |
Rarity
Rarity
Description
Example
ノーマル
Normal
Many random cards which idols can find anywhere, mostly idols have a single normal card set, like as shown in Episode 14. Normal cards have low appeal points and ★★☆ or ★★★ lucky stars.

レア
Rare
As the name describes, Rare cards are limited edition-like cards which mostly provided by Brands suppliers. Rare cards have average appeal points and ★☆☆ or ★★☆ lucky stars.

プレミアムレア
Premium Rare
Once-made only coords, Premium Rare cards are designed by the Top Designers under request, which designed until the bottom if their hearts. Premium Rare cards have high appeal points and ☆☆☆ or ★☆☆ lucky stars

キャンペーンレア
Campaign Rare
Campaign Rare cards are like Rare cards, but Campaign Rare cards only can be found by various campaigns. The designs are mostly a re-design from cards already exist called Original Color Design.
Cardlist
School Dresses
2013 Series / 1st Season
2014 Series / 2nd Season
2015 and 2016 Series / 3rd and 4th Season
Collaboration Coords
Normal cards (without brands)
Uniforms
Starlight School
Dream Academy
Himezakura Private Girls' Academy
Étoile Academy
Naniwa World's No. 1 Academy
Campaigns
2013 Spring Collection
2013 Summer Collection
2013 Winter Collection
Nightmare Halloween Collection
2015 Nightmare Halloween Collection
Aikatsu! Japan Tour
Trend Collections
Animal
Summer Marine
2015 Summer Vacation
Unit Dress Campaign
Main article: STAR☆ANIS/STAR☆ANIS Dress Campaign Cards
Main article: STAR☆ANIS/STAR☆ANIS Day Outfit Cards
Main article: Aikatsu8/Aikatsu8 Day Outfit Cards
Good Coords
Main article: Good Coord
Gallery
Note: This gallery only includes notable images.
Data Carddass Aikatsu!
Anime
Other
Trivia
References/Image sources
Community content is available under
CC-BY-SA
unless otherwise noted.