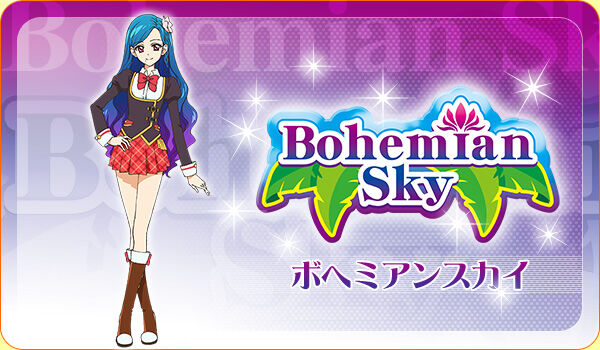 Bohemian Sky (ボヘミアンスカイ, Bohemian Sky) is Sora Kazesawa's brand. This set was introduced in the Data Carddass Aikatsu! 2014 Series - 2nd collection as well as Episode 61, which doubled as Sora's debut episode.
About
Bohemian Sky is a bohemian-themed brand that was created by Sora Kazesawa, an idol and model at Dream Academy. Under recommendation of the school's headmistress, Tiara Yumesaki, Sora created the brand, becoming the first idol to design her own brand.
Bohemian Sky is a brand inspired by Mimi, a woman selling handmade accessories. This brand contains many "ethnic" designs.
Brand Concept
Complete with nature motifs, ethnic styles, floral concepts, and fringe and stripe-type designs, this brand is Bohemian-inspired with a slight mature look.
Known Users
Top Designer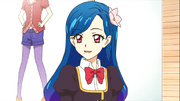 Sora is the first Idol to be a designer. She is very calm and easy-going, and explained that she was originally inspired by a Bohemian she met when she was a little girl living abroad in Morroco. She spotted Mimi selling Accessories and showed so much interest, that Mimi let her borrow her designing tool, so that she could start to make accessories as well. She saw how hard Mimi worked when she made her accessories, and how much she put out into them as she gave them to others, and to repay Mimi for her kindness in showing her this world, Sora based her Brand on it.
Chronology
Kira・pata・magic☆
Rumors begin to spread about Sora Kazesawa starting her own Idol brand. As the Dream Academy's Designer Course's semesterly exhibition starts, Seira and Ki observe various outfits when their attention is brought to Sora as she gives some girls tips on looking cuter for their upcoming photo-shoot. After she goes off to help them, they continue to observe the various items she has made until she returns. While they are confident Sora can make a successful brand, she is doubtful due to her conflicted feelings.
In hopes of easing her worries they sit with Sora back in her Dorm Room. She explains that up until this point she made clothing how she wanted to, and when she wanted to, as a fun hobby. But if she owned a brand, she would need to announce new clothing periodically and with no inspiration - she would still be forced to design things. She also worries she will not be able to bring out that "special something" in an Idol that most outfits can. She goes on to tell the girls about the time she met the person who inspired her when she was little. 
The girls continue to convince Sora that her brand will inspire others and encourage them, as long as she stays free-spirited. In this time, Sora works on a design and reveals the name of her brand: Bohemian Sky. From the inspiration of Mimi, and adding her own name.
When the day for the brand reveal approaches, Sora unveils the Oriental Libra Coord she made and goes on to perform while wearing it. 
Sora would go on to use this coord for a few other performances.
Acting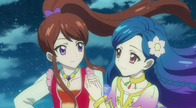 For the special Red-White Idol battles, Sora and Ran would be modeling some new coords. One of which Sora revealed after she and Ran took part in a special act, the Earth Vibration Coord.
Later, Ran and Sora were asked to team up in order to partake in the Auditions for an upcoming Drama. Together the girls performed, with Sora staring as the Princess and Ran as a Swordswoman. It is also discovered that Sora was put in charge of designing the outfits for the Princess and Swordswoman.
While initially her outfit designs look nice, Sora starts to have second thoughts and worries she may not fit the role of the Princess. She asks Seira and Ki for opinions, then mentions that she did a lot of research but can't shake off her feelings of concern.
The following day she would go to deliver the outfit she made for Ran, but admits that she was unable to finish her own. But after she sees the girls, she realizes she has gotten enough inspiration and takes off to finish after Ran compliments the outfit she made for her.
Cardlist
Data Carddass Aikatsu! Collection Cards
Promotional Cards
Coords
Gallery
Main article: Bohemian Sky/Image gallery