"Aikatsu, Aikatsu! My effort isn't enough! I'm going to start practicing more!"

This article is a stub. You can help Aikatsu Wiki by expanding it.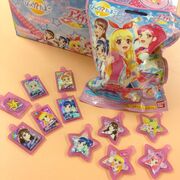 Bikkura Tamago - Aikatsu! (びっくらたまご アイカツ!, Bikkura Tamago - Aikatsu!) is a strawberry-scent ball-shaped bath additive featuring Aikatsu! series. Each pack also contain a plate accessory with a total of 10 accessories. It was released in November 2013, with a second set being released during November 2014.
The plates are simple plastic, glittering charms with a very shiny, glittery coating in the background of the picture, and back of the plate. They have small holes on the top, allowing the owner to insert a string or rope through it. On the back of each plate is the idols birth date, star sign, and full name.
Characters
There is a total of 10 plates, 5 shaped like squares and 5 shaped like stars. On the squares one can get Ichigo, Aoi, Ran, Yurika, and Otome.
On the stars, one can get Ichigo, Aoi, Ran, Seira, and Ki.
For the 2014 Set, three square shapes were released featuring Akari, Hinaki, and Sumire. Six with the Phone Look design were also released, which featuring Akari, Hinaki, Sumire, Ichigo, Aoi, and Ran.
Gallery
Community content is available under
CC-BY-SA
unless otherwise noted.