| | |
| --- | --- |
| | This article is a featured article, meaning that it has been considered and chosen by users and contributors to be one of the best articles Aikatsu Wiki has. |

Aurora Fantasy (オーロラファンタジー, Aurora Fantasy) is one of the Brands known via Aikatsu! Brand Collection. The primary users are Sakura Kitaoji and Maria Himesato.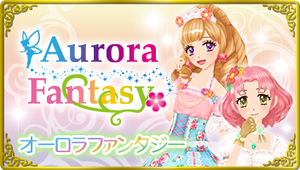 About
The outfits of Aurora Fantasy has theme of fairytales and fantasies. It makes the wearers look magical and mystical, as if they came straight out of a fairytale.
Concept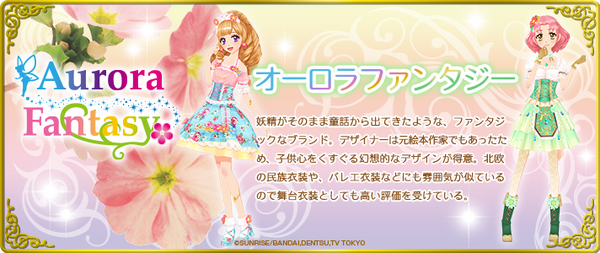 Like an Aurora that decorates the night sky, these dresses are wrapped in fine colors. Aurora Fantasy is a brand that would transform the wearer into a character straight out of a fairytale where beautiful flowers bloom and lights sparkle.
Known Users
Top Designers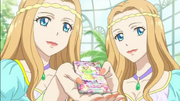 The top designers are identical twins. Their names are Lisa Hīragi and Elena Hīragi. Together they go by the name of Green Grass. They are very shy and because of that, Sakura had to get help from the Happy Rainbow's top designer so that she can get her very first Premium Rare Dress in Episode 30 - A Sincere Call and Response.
Chronology
Achieving the Knowledge of Communication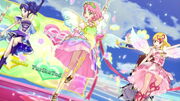 The brand of Aurora Fantasy debuted in the Episode 30, A Sincere Call and Response.
After being invited into a special audition to earn the Knowledge of Communication, Sakura began to feel less confident in her own skills and refused. Ichigo and her friends managed to convince her with some kind words and try to help her get a Premium Rare from Green Grass.
As they were searching for any information they could find about the top designer, Otome decided to challange Sakura by asking Makoto for a brand new
Premium Rare Coord
, and left to hang out at
Happy Rainbow
's headquarters for the night. The next day,
Aoi
reports to Ichigo and Sakura that Makoto is an acquaintance of Green Grass, so he left her the address to the Aurora Fantasy headquarters. As Sakura and Ichigo reached it, Sakura heads inside, on her own as instructed and meets Green Grass, who admit that they really wished to give Sakura the
Blooming Coord
and hand it to her. With that, Sakura joined the others in their Call & Response exercise during the Special Audition and all six of them pass; obtaining the Knowledge of Communication.
In the beginning of Tristar Arc, Aurora Fantasy made two cameo appearances. Sakura wore the Noble Coord and Ichika Ichihara wore the Flower Pirouette Coord on the live audition.
The participants for the Drama were required to wear the
Alice Fantasy Coord.
A while after STAR☆ANIS finished their summer live tour, Otome and Sakura returned to their unit Powapowa-Puririn's normal activities, but Shion feels lonely as the only member who didn't join STAR☆ANIS. During her time trying out for the Drama, she continued to express frustration with herself, along with sadness.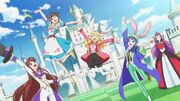 As the drama was shooting, she realized that the cast was also composed of those in STAR☆ANIS and it made her feel worse again. She kept acting and suddenly made a realization when she was asked about staying in Wonderland or leaving. At first she decided to stay and lost her confidence - but over time, she decides to participate in a game for her freedom and wins it, deciding that she must follow her dreams of becoming an actress.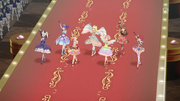 In the 35th Starlight Queen Cup, Aurora Fantasy made it's appearance when Sakura chose to wear the Blooming Coord while performing on stage with the other girls for a chance to face off against Mizuki.
She would go on to wear it during her first fashion show event in Powapowa-Puririn. 
The New-Scaled Aurora Princess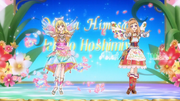 One of Dream Academy's student, Maria Himesato, loves Aurora Fantasy. She wished dearly to obtain the Premium Constellation Dress from the brand but lacked the courage needed to request one. With some help from Sakura and Sora, they managed to get a request in for her, along with a special message of encouragement from Green Grass. Then she went on to put a performance using it, and again when performing with Ichigo during the time the girls came to visit her home town.
There it was revealed that her home had a whimsical Aurora Fantasy theme to it.
The Queen's Budding Flower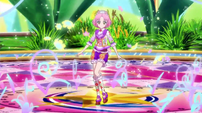 The Starlight Queen Cup is approaching and everyone wishes to enter it. Everyone believes Sakura is the top contender for it, due to her recent popularity and she decides to enter. Prior to this, she struggled to step foot onto the territory belonging to the Starlight Queen; despite Otome inviting her in many times.
Otome learned in this time that Sakura wished to rely less on others and have others come to her as an Admireable Mentor. She doesn't want it to win over other idols, but to gain respect. 
For the performance of "Blooming♡Blooming" she used the Flower Prince Coord, belonging to the Thumbelina collection. It was later announced that she was the victor of the Starlight Queen Cup, and finally stepped foot on the Queen's Land.
Cardlist
Data Carddass Aikatsu! Collection Cards
Promotional Cards
Coords
Gallery
Main article: Aurora Fantasy/Image gallery
Trivia
This is currently the only brand to have more than one top designer.
This is the first brand to have designs based off of real-life popular culture; for example the Alice Fantasy Coord which is based off of Alice Liddell's dress.
Community content is available under
CC-BY-SA
unless otherwise noted.