Aries is one of the 12 zodiac constellations. It is a mid-sized constellation, ranking 39th overall size, with an area of 441 square degrees (1.1% of the celestial sphere), located in the northern celestial hemisphere between Pisces and Taurus. Aries is the Latin word for ram and its symbol is ♈, representing a ram's horns. It is one of the 48 constellations listed by the 2nd century astronomer Ptolemy and to this day remains as one of the 88 modern constellations.  [1]
Known Idols of Aries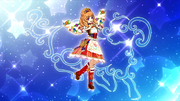 Sakura Kitaoji (北大路さくら, Kitaōji Sakura) is the second-to-last of the main eight characters for the first season. She is a student of Starlight School. She does not obtain a Premium Constellation Dress of Aurora Fantasy, but she has been seen using a Constellation coord in the Partners Cup.
Maria Himesato (姫里マリア, Himesato Maria) is one of the new main characters who debuted in the 2014 series and season 2 of the anime. She is one of the girls representing Dream Academy.
Akari Ōzora (大空あかり, Ōzora Akari) is one of the main characters of the second season of the anime, and the central protagonist beginning in the third season. She is a student of Starlight Academy.
Hikari Minowa is a student of Starlight Academy and a popular net idol.
Coords of Aries
Cards of Aries
Gallery
Official Artwork
Data Carddass Game
Anime Screenshots
Tyrolean Aries Coord
Tyrolean Aries Coord
Princess Märchen Coord and Floral Alps Coord
References