Angely Sugar (エンジェリーシュガー, Angely Sugar) is a Aikatsu! Card brand symbolizing the style in cuteness. The top designer is Asuka Amahane. This is Ichigo Hoshimiya, Madoka Amahane and Noeru Otoshiro's favorite brand.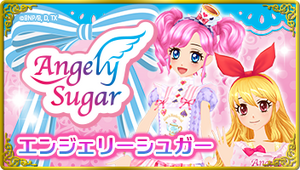 About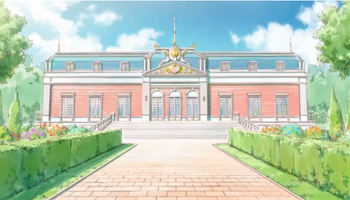 A famous fashion design company that bases their design on cuteness and to make girls look like angels. Ichigo likes their style of wear. The headquarters is in a mountainous area called Angely Mountain and was established 180 years before the series. Angely Sugar is very popular amongst other idols as well, as it is one of the most commonly used brands.
The brand's mascot is Angely Bear.
Concept
"Dress to maximize the attractiveness of a girl" is the brand's theme. With frills, ribbons, and feathers in the motif, there are lots of designs such as the magic that makes everyone become lovely. As you wear Angely Sugar on your first date, your boyfriend will also feel the legends. Please slowly enjoy the magic of angels.
Known Users
Top Designer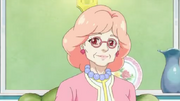 The top designer is Asuka Amahane, who first appears in Episode 09. After witnessing Ichigo risk her life by climbing to the very top of Angely Mountain she had chosen to give her the Premium Rare coord she had just recently made. Since then, Asuka has kept in touch with Ichigo and often requests her help for anything related to Angely Sugar. At one point it is revealed that she first created Angely Bear for her children, and later on it is revealed that she is the grandmother of Madoka Amahane.
Chronology
Reaching One's Fans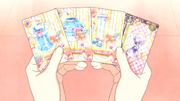 After it was revealed that Ichigo hadn't made an idols autograph, Johnny tasked her with making one. At first she struggled to think of something befitting of who she was, then with help from Aoi and Ran, trained endlessly to increase her speed when writing. Just when it seemed she had mastered it the girls find themselves in an impromptu autograph session.
In this time, Ichigo focused so much on her autograph that the fans became disappointed by her. Ran points out that an idol must pay attention to the fans because they have come to see her, and with the remainder of time, Ichigo takes these words to hear. Later she tests her abilities when Johnny asks for an autograph. She makes a conversation with him while signing, and while it has come out messy, he passes Ichigo and presents her with a rare set of Angely Sugar cards, the Ice Blue Frill.
Seeking a Premium Rare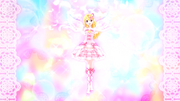 Ichigo is told to take part in a Special Audition. While training she learns about Premium Rare cards from Ran and Johnny, who explain their special values and the rarity of obtaining them from an approving Top Designer. He promises to set up an appointment with the Top Designer of Angely Sugar for Ichigo, and as the days go by she uses the time to train and learn about the History behind the brand. When the time comes for the audition, Ichigo worries when she finds out that Aoi and Ran got theirs. Johnny reveals that he finally heard from the top designer but he believes they may not have enough time to go and get it before the Audition starts. Without hesitation, Ichigo is determined to get her Premium and they take off.
They go as far as Johnny's car will allow and Ichigo travels to the location with the help of an old hand-drawn map and her Aikatsu Phone. But when she comes to Angely Mountain she sees no way to get up and begins to climb it. She runs into the Gardener on top and he brings her inside to meet Asuka, who reveals there was an elevator she could have just used. Ichigo requests to have the Premium Dress while describing her love for the brand and Asuka agrees while revealing the dress to her. She believes that for Ichigo to risk her life just to reach her, she is worthy of it. She also thinks this may have been fate and gives her the cards that belong to the Aurora Kiss coord.
Within the final ten minutes before her turn on stage, Ichigo arrives and reveals the premium, allowing the trio to change outfits and perform on stage.
A Present For Christmas
In preparation for Christmas the idols were tasked with setting up the party. In this time, Ichigo worked with her friends to try to cheer up a classmate, Yuna, who was unable to celebrate the holiday with her parents. For her kindness and hard-work, Orihime gave Ichigo a present: the Sweet Restaurant Coord. She would later go on to use this coord for the performance, along with the New Year Performance shortly after.
During her time as Mizuki's partner for a special concert, Ichigo and Mizuki wore the Valentine Style Coord together.
Angely Sugar Commercial
The girls play a game of rock-paper-scissors to determine which brand they will all be wearing for an upcoming performance. To the frustration of Yurika and Ran, Ichigo wins, meaning they would all be wearing Angely Sugar.
As this is going on, at the office meeting of Angely Sugar is a man discussing that an up-and-coming idol will be the star of their commercial. Right away Asuka voices her idea of choosing Ichigo, since she fits so well with Angely Bear.
Orihime fills Ichigo in on the news and gives Ichigo an Angely Bear doll, which is a gift from Asuka. They discuss where the idea of Angely Bear first came from and she runs back to tell the others the news. At first they are concerned that Ichigo will be unable to train and practice for their own performance while she focuses work on this commercial. She is sure she will make it work and spends the next few days attending meetings, interviews, and training. She does fine at first but soon becomes overwhelmed with everything - as shown when she messes up during the first day of Filming.
The actor playing her little brother helps her by explaining how natural the commercial is meant to be and they resume shooting, with a tired Ichigo returning to the dorms to find Aoi. Aoi gives her the interview transcript, but when she finds out that Ichigo fell asleep, she leaves to train with Ran. To make things easier, Aoi and the girls take preparations to help Ichigo. They have Sakura take her place during training for the sake of filming it so Ichigo can watch everything she misses, and they have Ran take over for her place when Sakura is unable to be there, mainly during their time running laps. 
Soon the last day of filming approaches and everyone goes outside. However, they call a break after noting how absent-minded Ichigo seems to be. As clouds begin to form in the sky, Asuka approaches Ichigo to chat. She is very happy to see her and asks for Ichigo to confide in her, being able to see that something is wrong.
Ichigo proceeds to go over the performance she and the others were to be in and she feels like she may be holding them back due to the conflicting schedules. Asuka then brings up Angely Bear and explains the story of it to her, saying that she puts her love and and wish into every single one she makes as it's popularity expands. Ichigo was the perfect girl for this role because she is able to do the same. Such words perk Ichigo right up and they resume filming as the weather clears up,
Afterwards she would go on to perform with the others while they use the coords: Aurora Kiss, Ice Blue Frill, Valentine Style, Aqua Lace, and Baby Pink Frill.  
Tournament
For a place in Tristar, Ichigo would perform using the Aurora Kiss and Ribbon House Coords. 
The Surprise
Ichigo finds out that Miya, an idol in the duo unit Masquerade, is really her mother, Ringo. While shocked by the news, she soon feels rather dumbfounded upon realizing Miya comes from the second part of their last name. Ringo brings Ichigo to Angely Mountain and with Asuka they discuss more regarding Masquerade. Afterwards she reveals the Star Festival coord and presents it to Ichigo in hopes she would wear it.
She would then go on to use it twice in the Starlight Queen Cup.
Lucky Mermaid
The two idol schools decide to hold the Lucky Idol Race and the first prize: a gift certificate for a Premium Constellation Dress from any brand of the idols choosing. Right away Ichigo planned on choosing Angely Sugar - should she win. She really wants to be able to perform a special Angely Sugar Constellation Appeal, and she uses this to encourage herself in hopes of taking the prize.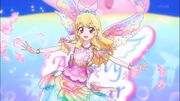 Eventually Ichigo takes part within the remaining top four competitors. Then it winds down to just her and Seira after she passes them, and Ichigo uses her fathers words to keep going, just winning her first place. She is given the certificate and Tiara promises to give her wish to Asuka, and soon after Ichigo receives the Mermaid Pisces coord. She thanks Asuka and goes on to perform while wearing it.
She would then go on to wear this coord when she performed with Maria, and performed with Seira in their duo unit. 
Aikatsu8
For the first generation of Aikatsu8, the unit wore the Angely Sugar dress known as the Prism Heart Coord. Four variations were made for each idol type.
Twin Dresses
With their unit settled, Ichigo and Seira decide that they needed to get their hands on a special Unit outfit. They line up a few of their favorite coords from their brands at the moment, with Ichigo showing everyone the Pearl Shell coord. However they feel such coords are not enough and begin to feel down until they find an old concept that Masquerade had been working on in the past. The outfits never came to be due to the unit disbanding shortly after the Article was wrote.
With some info digging the girls find a notebook used by the Costume Staff for the unit. They see that the outfits kept the girls favored brand in mind, but the theme to them was somewhat strange. One outfit resembled the right side of a butterfly wing, while the left was based on the other, and when together, would remind everyone of a single butterfly preparing to take flight.
Just as they understand the concept, the girls worry that the top designers may not agree to this. They're both very different so they may not want to work together, but with no definite answer, the girls decide to ask instead of worrying. As it turns out, Asuka and Makina are excited to try this idea and agree to work together.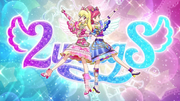 After a while Ichigo calls Asuka to see how things are going, but the Gardener informs the girls that neither Asuka or Makina have left the workshop for an entire day. This worries them so they travel to Angely Mountain, and upon reaching the top, the Gardener explains that neither designer wanted to be disturbed. Ichigo is unable to get a response when she knocks on the door and walks right inside to find the room a big mess. They find that both Makina and Asuka are asleep and they wake them up to make sure they are okay. After a moment they are able to recall how much time they spent working, so as a result the past day was used for sleep. But they have finished the designs and reveal the brand new Gemini coords, Angely Gemini and Swing Gemini. The girls receive their brand new coords and change to perform in a Debut Live.
Ichigo and Seira would use these coords during the remainder of their duo unit.
Hello New World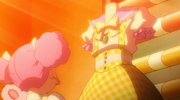 Madoka Amahane is chosen to represent Starlight Academy as a new idol in an upcoming event. While excited, Madoka is concerned after Akari tells her that she needs to pick an outfit for the event and voices her desire to obtain a Premium Rare for Angely Sugar. Akari warns her to make a request as soon as possible, but Madoka fears she cannot ask her grandmother.
Back in the dorms, she confesses to Akari that ever since she was little she would watch Asuka make dresses all the time. Their beauty inspired her to become an idol in the first place, and she dreamed of getting to wear one. However, after seeing how much her grandmother strived for perfection, Madoka realized that she lacks she confidence of an idol and was worried that she wouldn't be able to get one. 
Eventually the performance day approaches. Madoka trained very hard and with Akari's words of encouragement, Madoka feels ready to pay Asuka a visit. Upon arrival the girls make their way to Angely Mountain and Madoka begins to climb it as she thinks about the various things her grandmother told her in the past. She refuses to give up, and as they reach the top they are brought inside, with the Gardener voicing his surprise that Madoka climbed the mountain.
As soon as Asuka joins them, Madoka voices her desire and explains how much she loves the dresses and why she spent so much time watching her grandmother. It made her realize that with only half of a resolve, she couldn't wear them yet, but she loves them a lot and trained very hard and asks to be given a chance. Asuka agrees and explains that she saw how much desire Madoka had for a dress of her own - but one day she suddenly stopped asking. She is glad to know there is a reason for it and Madoka explains that she wanted to wait until she had the confidence to earn them. Asuka agrees and thinks back to Madoka's birth and the time they spent together before encouraging her to keep going while she gives her the Angel Alice coord.
With that, Madoka left with Akari and went on to perform on stage.
Sugar Coord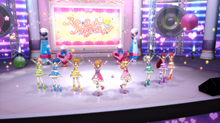 In the first CGI performance of the movie, Ichigo, Aoi, Ran, Otome, Yurika, Sakura, Kaede, and Akari performed on stage together wearing the Sugar series coords.
Dream Stories
At one point, Sumire performed for a Wedding with Akari, dressed in the Lovely Mage coord from the Arabian Nights collection. With the same outfits, they also performed at another event before going on Summer Vacation.
A while later, Juri wore the Milky Wendy dress from Peter Pan. Followed by Sumire wearing the Lovely Mage coord from Arabian Nights.
Cardlist
Data Carddass Aikatsu! Collection Cards
Promotional Cards
Coords
Gallery
Main article: Angely Sugar/Image gallery
Trivia
In Episode 9, many of the cards shown really exist in the 1st and 2nd collections, this hints that all of the cards will be turned into real-life cards at some point.
The majority of Angely Sugar designs closely resemble the real life Sweet Lolita fashion style and was most likely inspired by the real Sweet Lolita brand Angelic Pretty. One of the head designers of Angelic Pretty is also named Asuka.
This is the first brand to have a mascot.
This brand has the most Premium Rare coords at the total of six.
This is most likely the oldest Aikatsu brand in the anime.
External Links