A new generation of Aikatsu is born! Come check out its successors as we continue our Idol Activities with Aikatsu Stars! and Aikatsu Friends!
What is "Aikatsu!"?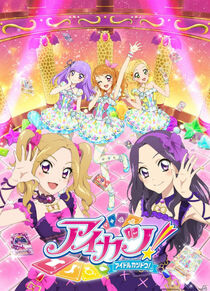 Aikatsu! (アイカツ, Aikatsu!), short for Aidoru Katsudō! (アイドルカツドウ, Aidoru Katsudō! lit. "Idol Activity!"), is a collectible card game by Bandai. An anime adaptation was made by Sunrise that began on October 8, 2012. In addition, there are also three manga adaptations, a 3DS game adaptation, and a novel adaptation.
The 2nd Season for the anime began on October 3, 2013 and the 2014 Series of the Data Carddass Game began October 10, 2013. The 3DS game titled "Aikatsu! Both of my princess" was also released on November 21, 2013.
The third season for the anime began on October 2, 2014 along with the 2015 Series of the Data Carddass Game, with Akari Ōzora as the new central protagonist. A new 3DS game titled, "Aikatsu! 365 Idol Days" was also released on December 4, 2014.
Season 4 of the anime began on October 1, 2015 along with the 2016 Series of the Data Carddass Aikatsu Game, with idols from all over the country making appearances. A new 3DS game titled "Aikatsu! My No.1 Stage! will also be released on November 26, 2015.
A movie for the anime titled Aikatsu! The Movie was announced at the end of the 71st Episode and premiered on December 13, 2014.
Featured Article

"Everyone in the audience, I'm sorry to have kept you waiting!"

– Shion in Episode 148 after arriving at the concert.

Shion Kamiya is a cool-type idol and a renowned genius actress known as the "Actress Who Wields Seven Faces". Originally a serious and contained person with an air of professionalism when first introduced, she is a person who considers acting her everything and her passion for it is unrivaled. From secluding herself to train, and doing virtually whatever she can to understand her role, Shion always aims to play the best role she can. Because of this dedication, how she felt about acting, and how contained she was, Shion wasn't the nicest person around. However, after meeting Aoi who was able to prove her own passion, not only did she start opening up, but she also gained a friend. Later, Shion is recruited by Otome to join her independent unit Powapowa-Puririn, along with Sakura Kitaōji. Due to her cool self, going along with the pop, fun, and spontaneous unit that was PowaPuri was somewhat embarrassing at first and she felt out of place, but now she considers it where she's meant to be and thanks to Sakura and Otome's influence she's come out of her shell even more.

As of now, Shion continues following the path of an actress. With her unrivaled passion, gift for it, and dedication, she's well on her way to being the best all while staying with Powapowa-Puririn. Equipped with her favorite brand, Futuring Girl, who knows what big blockbuster this actress will star in next!




Portals
Sister Wiki
Official Sites
Featured Videos
Aikatsu! CM 2016 Series - Part 2♪
2016 Series - Part 2 HOT NEWS with Johnny-Sensei☆ AIKATSU! SHOW TIME☆
Aikatsu! 2016 Series - Part 2: New Idol Promotion VTR♪
Recent Blogs
hi 
what are your favorite brands? 
I have made my own brands:
SLIVER CRISTAL(FOR SAILOR MOON FANS),GO…
hi everyone
what are your favorite brands? 
Who are your all time favorite characters from Aikatsu?
See more >
Community content is available under
CC-BY-SA
unless otherwise noted.