"Aikatsu, Aikatsu! My effort isn't enough! I'm going to start practicing more!"

This article is a stub. You can help Aikatsu Wiki by expanding it.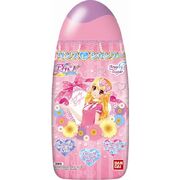 Aikatsu! Two-in-One Shampoo (アイカツ!リンスインシャンプー, Aikatsu! Two-in-One Shampoo) is a shampoo released in August 2013. In 2015 a second bottle was released, featuring Akari on it.
Appearance
Ichigo
A pink themed bottle with a light purple on the removeable part of the cap. On the bottle is a gradience of lighter pink around the middle, and lining the top portion is white fancy tulle and chains of pearls hanging from it. Faded, pale pink pieces of tulle and lace go around in a stripe pattern on the bottle. On top is blue kanji, while below it on the left is the aikatsu logo, and on the right is the Angely Sugar logo. The Bandai sticker is in the lower right corner. In the center, Ichigo is depicted in a white heart wearing the Sweet Restaurant coord, with Angely Sugar wrote in cursive next to her. The heart is lined by white tulle and hot pink ribbon with a polka-dot print. Lining the bottom half of the heart are daises of white, pale blue, pink, light purple, and pale yellow. Pearls and decal hearts are randomly scattered on the bottle. Below Ichigo are three gem hearts that come in pale indigo with purple writing, sky blue with pink writing, and pink with cyan writing.
Akari
Gallery