"Aikatsu, Aikatsu! My effort isn't enough! I'm going to start practicing more!"

This article is a stub. You can help Aikatsu Wiki by expanding it.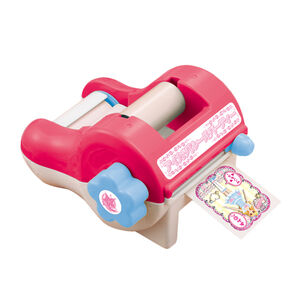 Aikatsu! Seal Party (アイカツ!シールパーティー, Aikatsu! Seal Party) is a sticker roll released similar to Aikatsu! Coord Collection Seal with Cards. It was released in August 2013.
About
Set Contents
Character body ― 16
Plate ― 1 Piece
Roll cassette ― 1
Seal inside the roll mat ― 1
Transparent roll ― 1
Clear seal ― 1 Piece
My Chara Sheet ― 12 Piece
Logo Sticker Sheet ― 8 Piece
Aikatsu! card ― 1 Piece
Instructions
Hair stickers - 26
Top and Bottoms Stickers - 28
Accessory Stickers - 17
Shoes - 28
Product Material
Character body, Roll cassette plate, Roll core: ABS
Rubber roller: Synthetic rubber
Transparent roll, Clear seal: PP
Appearance
Characters
There are four pre-made girls: Ichigo, Ran, Aoi, and Mizuki.
Ichigo with a pink and pearl border and the Sweet Choco Stage behind her. Four slots lined by pearls are on the bottom. 
A border with eight corners as Ichigo stands before the Triple Melody Stage. TO and FROM bubbles shaped like hearts are on each side. 
Ichigo with a pink and silver tulle border. Stage is Fairy Dream and a Name slot is in the corner shaped like an ovan.
Ichigo with a pink bubble border with dots lining the frame. A heart decal is on the lower right bottom while a gem heart is in the upper, opposite corner. The dialogue boxes are pink with a frilly border.
Aoi with a mint border and pearls. The background is Dark Palace and her borders for the written parts are pearled.
Aoi with a blue eight-point border standing before the Star Ship Stage. The TO is lined by metallic purple, and the FROM is lined in metallic blue.
A pale blue border with silver tulle designs. The background is the Milky Way Stage while the Name slot is shaped like a decal Star.
A blue paper-themed border with Aoi standing against a very dark blue-to-black background that has silver glitter stars, decals, and spots all over it. Her dialogue bubbles are metallic.
Ran stands before the Clubhouse Stage with a dark purple border lined by pearls to match her four writing slots.
A gold eight-point border with Ran standing before the STAR☆ANIS_Stage. Her TO and FROM circles are lined in gold with a purple gradience on top, fading to white beneath.
A very pale lilac border with gold tulle as Ran stands before the Masquerade Stage. Her Name tag is lined by gold.
Ran stands in front of a leopard print border lined by two fluffy white pieces of trim. The section between them is darker in color and along the bottom are four, pale yellow-white roses. The border is dark raspberry with holes punched through it. The dialogue bubbles are lined by pearls.
Mizuki has a golden broder lined by pearls to match the purple and pale pink pearls lining her writing boxes. The background is the Arabian Palace Stage.
A purple themed border with the To and From tags being semi-translucent with a purple cloudy texture. Mizuki stands in front of the Princess Stage.
A gold, detailed background with darker gold tulle designs on top of it, behind Mizuki. Her paper border is dark gold to match her dialogue boxes.
Blank Characters
A pink, blue, pale yellow, and light green border with rainbow tulle. The boxes for writing are lined by pearls. The character stands in front of the Candy Pop Stage and has large brown eyes.
A circle with pearls on top of a tulle of green and cyan mix. The stage is Colorful Fruits. The To and From slots are a sliced orange and lemon. Her eyes are dark blue
An orange border with dark orange polka-dots and hearts of orange, green, and yellow. A single dark orange musical note is in the upper left corner. The Name slot is a blue and green stripe oval. The stage is Sunny Park. Green eyes
A green striped square-shaped border with the dialogue bubbles shaped like white clouds lined by pink. The background is blue with giant light green spots while the girl stands before three rainbows and clouds of green, blue, pink, and yellow. Her eyes are dark pink.
A pink and pale blue border with tulle matching it. The pearls lining the boxes are white, and the stage is Fancy Action. Her eyes are normal shaped and brown.
Pink tulle-shaped border with pearls on top of it. The idol stands before the Sky Sweet Stage and has dark blue normal-shaped eyes.
A pink border with musical notes and hearts of deep blue and dark pink. The idol has green eyes with normal shaping and stands on the Spring School Stage.
A teal border with a diamond gem on each corner and tulle of white. The background is a mixture of pink and pink with white lines, seperated by pale pink-white flaps and frills. A pearled diamond is on each point. The idol has pink normal-shaped eyes.
A dark blue-indigo stage with pale blue spots and tulle of pale blue and lilac. The boxes are lined by indigo and purple pearls. The idol stands before the Christmas Stage and has slanted brown eyes.
A purple striped border with pearls on top of it. The To and From are semi-translucent purple with a gold border. The idols eyes are slanted and blue colored and she stands on the ___ stage.
An idol standing on the Tristar Stage with slanted green eyes on top of a green border with hearts and musical notes of dark green and purple. Her name slot is white with a plain green border and shaped like a rectangle.
Dark blue border with white tulle lining. The background is a gradience of raspberry, dark purple, and black with strands of gold beads and chains. The dialogue bubbles are lined by gold. The idol has pink slanted eyes.
Hair
Curly magenta side-tail.
A dark brown bun on the right side of the head.
Dark brown, very short boyish cut.
Shoulder length hair with bangs slanted to the left. Comes in four colors, brown, magenta, dark turqoise, and brown with red highlights.
Straight brown, shoulder-length.
Dark brown with a low ponytail and a few loose strands of hair on the left.
Magenta with a low, thin curly ponytail.
Slightly fluffy, shoulder-length hair that comes in three colors; lavender, light orange, and dark brown.
Short bangs with hair pulled up into a tight bun and two loose strands of hair, one on each side of the head. Comes in four colors; light brown, dark pink, dark brown, and blue with violet highlights.
Brown odango-pigtails.
Curly dark pink with no bangs.
Curly light brown with straight cut bangs.
Fluffy with a bit of hair pulled up into a semi-bun. Comes in two colors; Blonde, and golden-orange.
A light brown, loose bob-cut.
Dark brown shoulder length with a small amount of hair pulled into a ponytail on the top of the head with no bangs.
Light brown, slightly curled with red streaks.
Puffy dark brown pigtails at the bottom of her head.
Coords
Pink Stage
Purple Stage
Blue Stage
Ice Blue Frill
Sky Restaurant
Valentine Style
Ribbon House
Rose Garden
Frill Pink
Flower Pirouette
Fairytale
Black Future
Lucky Pilot
Clear Glass
Sparkling Noir
Block Check
Striped Gothic
Ageha Logo
Glitter Rose
Phantom Lady
Romantic Fur
Pinky Funky
Step Magician
Party Queen
Scheraharazade
Frill Shirt with pink ribbon
Pink Gathered Flare Skirt
 Turn-Upped Pink Short Boots
Stripe Long T-Shirt
Pank Pleat Skirt
Studded Boots with horizontal stripe
Rouge Bare Top
Bordeaux-colored Frill Mini Skirt
Bootie with Studs
Accessories
Sweet Restaurant Ribbon
Pilot Girl Accessory
Tropical Basket Headband
Black Chiffon headband
Rainbow-Colored Macaron Accessories
Valentine Headband
Multi Color Hair Corsage
Red Rose Hair Corsage
Devil headband
Romantic Fur Accessory
Angely Bear Ribbon
Flower Pirouette Corsage
Kaleidoscope Accessories
Party Moon Accessories
Clown Carnival Mini Hat
Yellow Dotted Ribbon
Sunny headband
Promotion Card
PG-053
Card Name
Frills Shirt with Pink Ribbon

Type
Category
Brand

Cute

Tops
-
Rarity
Lucky Star
Constellation/Romance/Dream/BOOM
Fever
Normal

-
Dress Appeal
Appeal Points
-
200
Gallery