Obi-Wan Finale - The Loop
Play Sound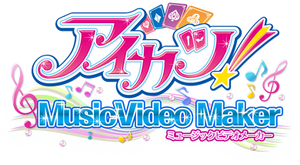 Aikatsu! Music Video Maker (アイカツ!ミュージックビデオメーカー, Aikatsu! Music Video Maker) is the 1st mobile app of the Data Carddass Aikatsu! arcade series. Published by Bandai Namco Games, the game was released on August 5, 2014. an indonesian version was released. Currently both of the version ended service.
Information
Price: Payment required for in-app purchases
Genre: Aikatsu Life Trial
System:iOS6 and above; Android 4.1 and above

iPhone 4S, iPhone 5, iPhone 5S, iPhone 5C
iPad (3rd and 4th Gen), iPad Air, iPad Mini

Purchase Method:App Store/Google Play
Game Modes
Music Video
The music video of the song made for the game: Shining Days can be seen in the game. You are able to not only learn the dances from songs, but to also record your own version of the song with the provided background corresponding to the song. You can then download the video and save it.
Model Lesson
Using frames bought from either the song sets, taken from quizzes or special events occurring, the player can use these frames and take photos of themselves to experience what it is to be like a model.
Perfect Pitch Lesson
Listening to a key from an octave of a piano, the player will guess which note it is, and tries to beat their own high score.
Cardlist
Players are able to scan their Aikatsu! Cards into the mobile app to see which cards they own, and can also see the basic information of a card and search up card easily.
In-App Purchases
There are numerous sets of Music Videos and Frames for users to buy. Below are the list of current available purchases:
Akari Generation Set (Each set can be bought separately)

Du-Du-Wa DO IT! Set: MV and 3 frames (Main Idol w/ brand, Appeal, Song and Stage)
Let's Aikatsu! Set: MV and 3 frames (Main Idol w/ brand, Appeal, Song and Stage)
Good morning my dream Set: MV and 3 frames (Main Idol w/ brand, Appeal, Brand)

Ichigo Generation Set (Each set can be bought separately)

Idol Activities! Set: MV and 3 frames (Main Idol w/ brand, Aikatsu Navi, Song and Stage)
Signalize! Set: MV and 3 frames (Trend Magazine, Main Idol w/ brand, Song and Stage)
KIRA Power Set: MV and 3 frames (Main Idol w/ brand, Appeal, Brand)

Other

Diamond Happy: MV and 3 frames (Main Idol w/ brand, Appeal, Brand)
Shining Days:Free,MV and 3 frames (Main Idol w/ brand, Appeal, Brand)
Gallery
App Icons
Gameplay
Frames