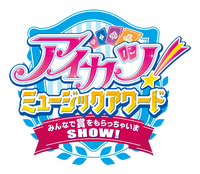 Aikatsu! Music Awards (アイカツ!ミュージックアワード, Aikatsu! Myūjikku Awādo)[1] is the first special short film of the Aikatsu! anime adaption series. It was first announced on the official website of Data Carddass Aikatsu! on May 27, 2015. The movie premiered in Japanese theaters on August 22, 2015.
Story
"The First Music Awards!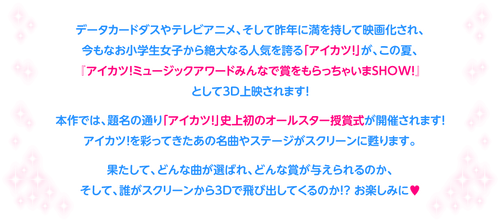 The Data Carddass and the Anime, so as the Movie awaited that was made last year, "Aikatsu!" that has a tremendous popularity especially amongst elementary school girls, in this summer, "Aikatsu! Music Awards: The SHOW where everyone can get a prize!" will be on screens in 3D!

In this work, using the title of "Aikatsu", we will have our first ever All-Star Award Ceremony held in history! Go Aikatsu! The admired and the rumoured famous song and stage will also once again awaken in the movie.

You who are wondering: what song will be chosen, what kind of award will be given, and who will be the ones to fly out from the 3D screen? Enjoy!
Gallery
Main article: Aikatsu! Music Awards/Image gallery
Trivia
Video
Entrance Bonus
Special Entrance Set
Special Entrance Ticket Sets: Soleil Ver. and Akari Generation Ver. will be released on 11 July.
To enjoy more as a family, purchasing 3 tickets (2 adult tickets and 1 child ticket) will present you with the original visual drawings.
Purchasing the Soleil Ver. ticket set will present you with the 3 card set 3D cards of Sunshine Coord, while purchasing the Akari Generation Ver. will present you with the 3 card set 3D cards of Odette Swan Coord without the Accessory.
Furthermore, to celebrate the first ALL-STAR Music Awards being held, a muffler towel will be featured in the Super Deluxe Edition Sets.
Internet Reservation Bonus
Internet seat reservation bonus original Aikatsu! Card and Special Collaboration Card can also be bought at cinema box offices. (Except for particular theatres) 3 cards can be purchased or collected: Good Manners Onepiece, Cross Classical Setup and Good Walking Overall. The difference of the card design would be the golden borders and the promotional white glow border and the add-on logo of the Music Awards.
Entrance Bonus
All viewers will be presented with a 3D original card to be decided. The first 100 thousand viewers will be able to obtain Lovely British Tops that has an effect of flying out.
※Limited number, first come first serve. ※Image above is the appearance, and may differ from the actual product.
Featured Songs
External Links
References
Community content is available under
CC-BY-SA
unless otherwise noted.