"Aikatsu, Aikatsu! My effort isn't enough! I'm going to start practicing more!"

This article is a stub. You can help Aikatsu Wiki by expanding it.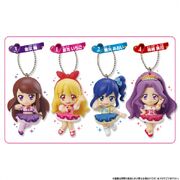 Aikatsu! Mascot (アイカツ!マスコット, Aikatsu! Mascot) is a keychain collection similar to Aikatsu! Mascot Collection, but also different as this series wasn't supplied by Gashapon. This collection also didn't come with promotion card, but with soda gum. The characters featured are Ichigo Hoshimiya, Aoi Kiriya, Ran Shibuki, and Mizuki Kanzaki. The mascots were released on August 13, 2013. The second series will be released on January 8, 2014. [1]
Gallery
First Series
Second Series
References