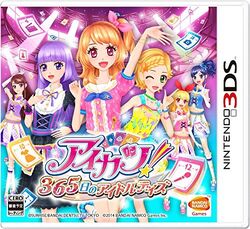 Aikatsu! 365 Idol Days
(

アイカツ!365日のアイドルデイズ

)
is the third 3DS game of
Data Carddass Aikatsu!
arcade series. Published by Bandai Namco Games, the game was released on December 4, 2014. The theme of the game is "Real Idol Adventure."
Gameplay
There are new features that separate this game from the previous Aikatsu! 3DS game installments. Those include ability for players to choose what coords to wear for modeling practice, a dialogue/actress practice, and the Mini "My Room".
Modeling
Although modeling practice was in the previous game, players were unable to choose the outfit their characters were modeling, and they would always be wearing a default outfit. Now, before the modeling lesson begins, players are given an opportunity to pick the outfit in question.
Mini My Room
The "Mini My Room (ミニマイルーム)" is an all-new feature in which players can decorate their character's dorm room.
QR Scanning
Although players could scan the QR codes from Aikatsu cards with the previous game, the elements gained from the chosen cards were random (with the exception of the Constellation cards). In the new game, players receive a copy of the item on the cards scanned, allowing more control and freedom with the player's in-game wardrobe. However the cards you are able to get are only from the 2014's 1st series to 2015's 3rd series. Scanning a QR code from the older or more recent collections do not get you anything but a blank card. Also note that campaign cards, like school coords, also give you a blank card.  
Card Gacha
When scanning a QR code, you also get gacha points. These points are only achieved by scanning from 2014's 1st series to 2015's 3rd series. After achieving 3 points from the respective rarity, you are able to use gacha. The cards you get are random, so there is a chance for you a card you already own.
DLC
DLC in this game allows players to download the newly introduced characters of the third season. The first released was Miyabi, then Madoka and Rin were released as a pair, and last released was Kokone. The first one you get is free, but after that, the others will cost 200 yen(around two dollars). After downloading these characters, they are not added into the game's story mode, instead, you can only play as/with them in the free play mode.
Monthly events
Once a month in a certain period of time, an event is done that allows you to get a card piece. This event uses the 3DS's clock, so you can only get a card piece daily. Do note that the card piece reward you get from the set(coord) is random, so you might get the same tops, bottoms, or shoes in a row. You are, however, allowed to change your 3DS's clock to get a specific coord you want.
Promotion Cards
15DS-001
Card Name
Model Rich One Piece

Type
Category
Brand

Sexy

Tops & Bottoms

Sangria Rosa
Rarity
Lucky Star
Constellation/Romance/Dream/BOOM
Fever
Normal

-
Dress Appeal
Appeal Points
Tops Wave
450
15DS-002
Card Name
Model Rich Pumps

Type
Category
Brand

Sexy

Shoes

Sangria Rosa
Rarity
Lucky Star
Constellation/Romance/Dream/BOOM
Fever
Normal

-
Dress Appeal
Appeal Points
Hopping Shoes
350
15DS-003
Card Name
Model Rich Hair Corsage

Type
Category
Brand
-

Accessory
-
Rarity
Lucky Star
Constellation/Romance/Dream/BOOM
-
-
-
Dress Appeal
Appeal Points
-
200
Single Effect
【Appeal point bonus】 Your Sangria Rosa appeal points will increase a bit!
Gallery
Official Arts
Preview
Videos
Community content is available under
CC-BY-SA
unless otherwise noted.