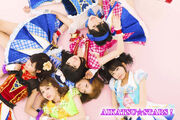 AIKATSU☆STARS! is a new idol group who are the featured performers for songs in relation to the Data Carddass Aikatsu! game starting from the 2015 series, as well as the third season of the anime. They sometimes collaborate on songs with members from their sister group, STAR☆ANIS.
As of February 28, 2018, the group have graduated from the anime and Data Carddass series.
Members
Like STAR☆ANIS, the members of AIKATSU☆STARS! provide the singing voice of at least one main character in the Aikatsu! universe, and are credited only by their given names written in hiragana.
Characters labeled with an asterisk (*) are from the Aikatsu Stars! series.
Official Members
Graduated Members
Mona Tomoyama (

巴山萌菜

) → Mona (

もな

) as Sumire Hikami (graduated February 27, 2016)

Replaced by Rie as Sumire Hikami as of March 26, 2017
Unofficial Members
Trivia
Members Ruka and Mona are also part of STAR☆ANIS.

Because of this, Miki is the first non-STAR☆ANIS singer to voice a main character.
Ruka voices the same character (Akari) while a part of STAR☆ANIS, while Mona voices Mikuru Natsuki.

Some of the members have multiple variations to their voices due to voicing more than one character. From lowest to highest pitch:

Miho - Juri, Yozora, Nono, Kirara 
Nanase - Lisa, Lilie, Tsubasa, Rin, Koharu
Kana - Mahiru, Madoka, Yuzu, Nina
Ruka - Hime, Akari, Aria
Rie - Rei, Rola, Sumire

If one does not count the Aikatsu! Music Awards as a part of the anime, as of Episode 127, Miho is the only member who has not once sung Let's Aikatsu! in the anime.
Nanase is the first and so far only member to have more than 4 letters in her name.
On October 24th, 2015, an audition was announced from which the group would induct new members.
Sena shares her first name with the last name of Tsubasa Sena, the lead designer for Dreamy Crown.
Gallery
Videos
Community content is available under
CC-BY-SA
unless otherwise noted.