"Aikatsu, Aikatsu! My effort isn't enough! I'm going to start practicing more!"

This article is a stub. You can help Aikatsu Wiki by expanding it.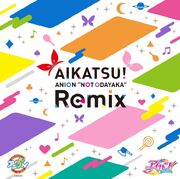 AIKATSU! ANION "NOT COMMON" Remix
(

アイカツ!アニON「NOT穏やか」Remix

)
is the first remix album for the 
Aikatsu!
anime series. The album was released on March 23, 2018.
Track Listing
Track Listing
No.
Title
Performer
.ogg File
1
Calendar Girl [kz Remix] (

カレンダーガール [kz Remix]

)
Waka, Fūri and Sunao from STAR☆ANIS

2
Move on now! [DJ Kazu & Co. Remix] (

Move on now! [DJ和 & Co. Remix]

)
Waka, Fūri, Sunao and Risuko from STAR☆ANIS

3
prism spiral [DJ WILDPARTY Remix]
Fūri from STAR☆ANIS

4
Take Me Higher [DJ'TEKINA//SOMETHING Remix]
Risuko, Moe and Yuna from STAR☆ANIS

5
Hirari/Hitori/Kirari [WMHL Remix] (

ヒラリ/ヒトリ/キラリ [WMHL Remix]

)
Waka, Fūri, Sunao, Remi, Moe, Eri, Yuna and Risuko from STAR☆ANIS

6
Kira・pata・shining [PandaBoY Remix]
Sunao from STAR☆ANIS

7
Chica×Chica [KAN TAKAHIKO Remix]
Miho, Miki, Nanase and Kana from AIKATSU☆STARS!

8
Glass Doll [TeddyLoid Remix] (

硝子ドール [TeddyLoid Remix]

)
Moe and Sunao from STAR☆ANIS

9
Dream Ballon [Hige Driver Remix] (

ドリームバレーン [ヒゲドライパー Remix]

)
Fūri, Yuna and Eri from STAR☆ANIS

10
Adult Mode [YUC'e Remix] (

オトナモード [YUC'e Remix]

)
Risuko and Mona from STAR☆ANIS

11
Summer☆Magic [Batsu Remix] (

サマー☆マジック [Batsu Remix]

)
Miki and Miho from AIKATSU☆STARS!

12
START DASH SENSATION [Taku Inōe Remix]
Ruka, Mona and Miki from AIKATSU☆STARS!

13
Trap of Love [Kakeru Ishihama Remix] (

Trap of Love [石濱 翔 Remix]

)
Waka, Fūri and Sunao from STAR☆ANIS
Gallery